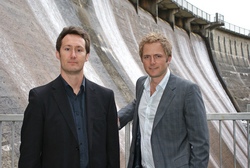 "No matter what the subject – marketing, people culture, sense of enterprise, risk-taking – that clarity shone through and captured the attention of the judges."
(PRWEB) November 13, 2009
Innovative smart water and energy solutions have won New Zealand company Outpost Central a share of $1million in the Entrepreneurs' Challenge.
The award is part of a $3 million gift to the University of Auckland Business School by expatriate New Zealander and international financier Charles Bidwill to assist New Zealand businesses of real promise that have reached a critical stage in their growth and development.
Outpost Central develops smart meter technology to help customers monitor and manage their water and energy resources to reduce costs. By connecting meters to the Internet, Outpost Central provides detailed and timely information on consumption patterns to help manage energy use, reduce leaks and meet regulatory obligations.
Investment committee chairman Brian Hannan said that all three winners reflect the ethos of the competition. "No matter what the subject – marketing, people culture, sense of enterprise, risk-taking – that clarity shone through and captured the attention of the judges."
Outpost delivers smart water meter and energy solutions with major utilities and large commercial customers mainly in Australia and New Zealand to date but Director James Riddell says Outpost is "looking to expand globally through partnerships with water and energy consultants, solutions providers and meter and sensor manufacturers"
The judges commented that Outpost Central " offers highly innovative ideas in a very important sector that will become more and more critical with the passing of time and the impact of lessening natural resources, and so offer huge opportunities for Outpost Central. We believe in its potential internationally."
Outpost Central is taking advantage of the growing markets of green technology and wireless M2M. The win comes on the back of winning 14th place in the recent Deloitte Fast50 index of New Zealand's fastest growing companies with 305% revenue growth and follows on from last year's position of 106th in Asia Pacific in the Fast500 with 484% growth.
# # #