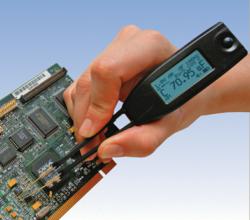 Smart Tweezers is so unique and handy for any work involving Printed Circuit Boards and Surface Mount Devices
Chiba, Japan (PRWEB) March 01, 2013
Ontario, Canada based Siborg Systems Inc and Alpha Corporation from Chiba, Japan joined their efforts for distribution of Smart Tweezers LCR-meter in Asia. This is the third agreement signed by Siborg Systems in Japan in attempt to expand its presence in Asia and Japan in particular. Alpha Corporation is a distributor of niche testing tools, materials and machinery for electronics. It primarily offers imported products to Japanese clients. The company also offers unique test equipment for PCBs.
"We are constantly searching for new original products that would be useful to Japanese engineers." says Norio Ito, Director at Alpha Corporation, "I was impressed by Smart Tweezers LCR-meter when I found information about them at Japan External Trade Organization (JETRO) web site. It looked so unique and handy for any work involving Printed Circuit Boards (PCBs) that I contacted Siborg right away and suggested to market this product in Japan and neighboring countries. Although it is very hard to sell imported electronics in Japan, we see a good potential for Smart Tweezers here."
Smart Tweezers LCR-meter from Siborg Systems Inc is an automatic LCR-meter perfectly suited for electronic testing in Surface Mount Technology with a pair of tweezers acting as the probes. The newest model ST5 also offers continuity and diode test, component sorting, ESR measurements and has a basic accuracy of 0.2% which is about 6 times higher than older models.
In contrast to more expensive bench-type LCR-meters offering similar high accuracy, Smart Tweezers do not take much time for setting up accurate measurements. As a matter of fact, it is only needed to establish a contact of the tweezer probes with the component leads and the component type, value and secondary impedance component are displayed on the Smart Tweezers screen within a fraction of a second.
This nearly pen-sized unit allows for comfortable one hand operation, allowing the other hand to be free for taking notes or holding other tools. Able to automatically determine the type of component, Smart Tweezers measures Inductance (L), Capacitance (C) or Resistance (R) of all types of surface-mount or through-hole devices. With the same high speed and accuracy, Smart Tweezers works as an accurate ESR meter i.e. the Equivalent Series Resistance (ESR) meter of a capacitor. Smart Tweezers LCR-meter parasitics are easily eliminated using a new semi-automatic offset subtraction feature. This allows Smart Tweezers to measure very small resistance and capacitance of 1 milliohm and 1 picofarad range. Unlike other devices using the same concept that appeared on the market in last few years, Smart Tweezers offer not only resistance and capacitance measurements but also boast inductance measurements of a fraction of microhenry, mandatory for radio electronic circuits.
Smart Tweezers LCR-meter is a remarkable tool for professional use in the electronics industry and it comes with a calibration certificate traceable to the National Institute of Standrads (NIST). It is proven by most high-tech companies worldwide as an indispensable for on-board impedance testing, SMD component characterization and sorting, as well as PCB debugging.
The latest news are available on the Smart Tweezers Blog.
About Siborg Systems Inc:
Established in 1994, Siborg Systems Inc. is a source of engineering software and hardware tools for semiconductor and electronics industry. Located in the city of Waterloo, Ontario, Canada, it enjoys being part of the local world-renowned high-tech community.
Alpha Corporation:
Established in 2005, the company offers domestic sales of electronic measuring instruments, precision measuring instruments, inspection equipment.
For more info please contact:
Mr. Norio Ito
Alpha Corporation
3F P.O. Building, 3-10-3 Tsuga, Wakaba-ku
Chiba City, Chiba 264-0025, Japan
Tel: +8150-3373-9558 Fax: +8143-235-2731
E-mail: norio_ito (at) alphacorp (dot) ecweb (dot) jp
Web: www (dot) alphacorp (dot) ecweb (dot) jp