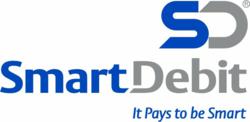 (PRWEB UK) 5 March 2013
ISO 27001 is an international standard created in 2005 to encourage and support organisations responsible for information security to bring their procedures in line with a full Information Security Management System (ISMS). It is not a required stipulation within the Direct Debit industry, however, SmartDebit are committed to fully safeguarding their clients' data as well as our own information assets.
SmartDebit's ISO 27001:2005 certification has been granted for the second year running, confirming that we continue to maintain their Information Security Management Systems (ISMS) to an excellent level.
The SmartDebit staff undergo regular ISO training sessions and personal audits. This ensures that all employees embrace the security measures to minimise risk in both the physical and virtual form. It is important to remember that ISO 27001 is an on-going process that requires continuous risk analysis and forms part of SmartDebit's daily operations. The certification confirms to their clients that they have procedures in place, which maintain a full Information Security Management System, and ensure it stays in line with future developments.
Steven Drewett, SmartDebit's Director of IT, commented, "The scope of registration covers payment processing at our head office in Bagshot and our processing service activities held in two Tier 3 data centres. Our continued ISO certification, including regular staff training and testing of our Business Continuity Plan, demonstrates SmartDebit's intense focus and adherence to information security, which is a key driver in the business, generating value at every level and providing real assurance to our clients."
About SmartDebit
SmartDebit is the UK's leading Direct Debit Bureau, specialising in payment processing services since 1998. A Bacs approved Bureau, scoring 'Excellent' in all five categories of the Bacs audit, and ISO 27001 compliant. SmartDebit API integrated solution and SmartDebit Contingency provide a complete range of services: Outsourcing; SmartDebit Admin cloud-based portal; and SmartDebit Online payer signup.