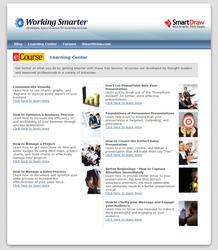 The Learning Center was created as a response to our customers who greatly appreciate the added value in the course content we currently offer. By providing these free eCourses to non-customers, we're exposing a wider audience to new information that will help them succeed as well
San Diego, CA (Vocus) February 11, 2009
SmartDraw.com, maker of SmartDraw, the software that helps you work smarter by communicating visually, today announced its new Learning Center (http://www.smartdraw.com/learn/LearningCenter/index.htm ), a repository of original, unbiased and useful information and eCourses for managers across all industries, whether or not they are SmartDraw.com customers.
Learning Center offerings include SmartDraw.com-authored eCourses as well as information provided by fellow Working Smarter Network members. The eCourses provides practical tips and how-tos for a multitude of common business activities, such as communication and presentation, project management, operations, sales management, human resource management, and marketing. Anyone can sign up to receive the free eCourses, which are sent to the recipients in short email segments. The available eCourses currently include:

Communicate Visually--Using Pictures to Improve All Aspects of Your Communication
How to Optimize a Business Process
How to Manage a Project
How to Manage a Sales Process
Don't Let PowerPoint Ruin Your Presentation
Foundations of Persuasive Presentations
How to Create the Perfect Sales Presentation
Better Beginnings - How to Capture Attention Immediately
How to Clarify Your Message and Engage Your Audience
Paul Stannard, CEO of SmartDraw.com estimates the company will offer at least 15 eCourses by the end of 2009.
"The Learning Center was created as a response to our customers who greatly appreciate the added value in the course content we currently offer. By providing these free eCourses to non-customers, we're exposing a wider audience to new information that will help them succeed as well," Stannard said.
About SmartDraw.com:
SmartDraw.com is the creator of SmartDraw, software that helps you work smarter by communicating visually. Whether it's a flowchart to explain a business process, a Gantt chart to show a project schedule or an organization chart, SmartDraw is unique because it draws more than 40 different types of visuals for you, including timelines, maps, charts, decision trees and floor plans. With SmartDraw, anyone can create presentation-quality visuals in minutes. Because people are six time more likely to retain and understand information presented to them visually, SmartDraw helps businesses increase their bottom line by improving communication, refining operations , completing projects on time, and successfully implementing their plans. The company's customers include more than half of the members of the Fortune 500, 2,000 K-12 schools and universities, and thousands of law firms, police departments, health systems and private enterprises of all sizes. Founded in 1994, SmartDraw.com is a privately-held, San Diego, CA-based company and is part of the Working Smarter Network. For more information or to download a free trial version, please visit http://www.smartdraw.com .
Contact:
Denise Herich, for SmartDraw
Peak3 Communications
858-735-2879
dherich (at) peak3communications (dot) com
###