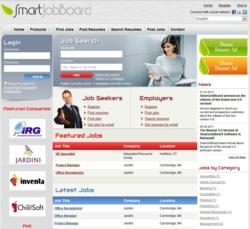 Las Vegas, Nevada (PRWEB) March 28, 2013
SmartJobBoard is an advanced software platform for creation of professional Job Boards. The Company is already 5 years on the job board market and continues to grow further. Over 1000 of customers use this job board software platform all over the world. Today SmartJobBoard announces the release of the brand-new 4.1 version.
"We worked hard on this version and we have reached our goal to improve our employment software in terms of usability and functionality. One of the most interesting improvements is the 'Location' field. This feature allows to search jobs and resumes by Country, State, City, Zip Code in one single field. When users type any geographic data they will be able to choose a needed location from a number of options suggested by the system. " said Ben Akylbekov, SmartJobBoard Product Manager.
In addition the team has made a number of improvements in the e-commerce module and billing system of job board software. For example, one of the integrated features is the Invoice module that tracks all the transactions made by users in the system and ensures effective financial management. Moreover SmartJobBoard has introduced the Tax module which allows setting up of certain tax rules for different countries and states so the taxes are correctly applied to the payments made by users. SmartJobBoard has also integrated PayPal Pro payment gateway so users can pay for the products directly on the website without redirection to the payment gateway site.
The career platform is now compatible with EU Cookie Law. If this option is enabled users will be asked for their consent to use cookies when they visit the job board for the first time. The system will explain users what is 'cookie' in general, what cookies are used and will propose to agree with usage of cookies or refrain.
Among other improvements it is necessary to point out that Admin Panel translation was made easy. Job board Administrator can translate back-end phrases directly from Admin Panel.
The new 4.1 version is the resolute step forward for the Company and a comprehensive update for the SmartJobBoard employment software making it one of the most reliable and powerful job board platforms available on the market. It is possible to check it out on practice by contacting SmartJobBoard directly through the Company's official website: http://www.smartjobboard.com
About SmartJobBoard:
SmartJobBoard is an advanced software platform for creating professional job board web sites. It includes everything needed for running, customizing and extending of online recruitment service. Whether a job board is niche or general, employer or job seeker oriented, paid or free SmartJobBoard allows implementing any ideas easily.