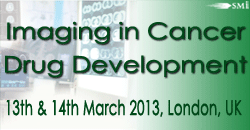 (PRWEB UK) 1 March 2013
With clinical application and innovation as the key theme throughout the industry, Imaging in Cancer Drug Development will focus on current developments surrounding oncology imaging and overcoming chemical challenges in radiotracer development.
Imaging in Cancer Drug Development will reveal latest developments in the industry to optimize your diagnostic processes and maximise your return on investments.
SMi is pleased to confirm Werner Scheuer, Principle Optical Imaging, Roche as speaker of the upcoming event.
He will address the application of in vivo imaging in the drug development process focusing on the monitoring of primary tumour growth, metastasis and angiogenesis.
Joining Roche will also be:

Albert Windhorst, Head of Radiopharmaceutical Chemistry, VU University
Francois Lasailly, In-vivo Imaging Specialist, Cancer Research UK
Peter Eggleton, Medical Director Oncology, Merck
Prash Krishna, Director – Oncology, Clinical Development, Eisai
For more information and to book visit http://www.smi-online.co.uk/goto/cancer-imaging69asp Or contact Cem Tuna on +44 0 207 8276736 or email on ctuna(at)smi-online(dot)co.uk