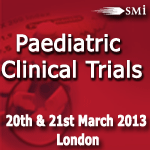 London, UK (PRWEB UK) 17 March 2013
SMi's Paediatric Clinical Trials event will aid attendees to close the gap between EMA policies and clinical trial design. A unique insight into the paediatric market, it will focus on regulatory requirements, clinical trial design and formulation development.
Some of the speakers who will be presenting include:
Bruno Reigner, Senior Clinical Pharmacologist, Roche Pharmaceuticals
David McIntosh, Medical Director, Novartis Vaccines
Lisa Moore-Ramdin, Medical Affairs Manager, GlaxoSmithKline Ltd
Luc De Schaepdrijver, Scientific Director Fellow Toxicology and Pathology, Johnson & Johnson Pharmaceutical Research and Development
Paolo Rossi, Head of Department, Children Hospital Bambino Gesùnda
The conference has created quite a buzz in the industry and is almost now sold out. Attendees will include Roche, Johnson & Johnson Celgene, Merck, Boehringer-Ingelheim and Glaxo SmithKline.
For further information on the event contact John Collins at jcollins(at)smi-online(dot)co(dot)uk