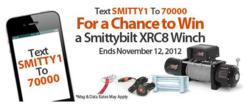 Columbiana, OH (PRWEB) September 28, 2012
4Wheel Drive Hardware, the leading distributor and retailer of Jeep parts and gear for Jeep enthusiasts, is launching a special promotional campaign for a chance to win a free Smittybilt XRC 8 winch. The campaign focuses on an exclusive method of entry, giving contestants a chance to win the prize through a simple mobile text message process. The Text-to-Win campaign will extend through November 12, 2012. Contestants simply need to send "SMITTY1" to mobile number 70000 in a text message for a chance to win a free Smittybilt winch.
The XRC 8, along with other Smittybilt gear, is a tough, durable winch that is a crucial component of any serious off-roader's equipment inventory. The XRC 8 features 8,000 pounds of line-pull capacity, a three-stage planetary gear system, a 172.8:1 gear ratio, and with a 5.5 horse power motor. Winches are crucial to off-roading, as the devices offer a self-recovery option when an off-road vehicle becomes stuck in a rut, or sloppy terrain, or behind a natural obstacle that the vehicle cannot circumvent under its own power. The Smittybilt XRC 8 provides more than enough power to pull a fully laden Jeep out of any problem commonly encountered while off-road.
Smittybilt is a leading manufacturer of aftermarket off-road parts and equipment. Smittybilt bumpers and winches are crafted from high-quality materials to exacting standards of precision and durability. Smittybilt's product line includes numerous upgrades for most Jeep models, including spare tire carriers, cargo racks, vehicle body armor, skid plates, as well as suspension components such as lift kits.
About 4Wheel Drive Hardware: 4Wheel Drive Hardware at http://www.4wd.com/ is a top industry provider of Jeep parts and accessories, with a focus and passion for the off-road industry. 4Wheel Drive Hardware strives to provide customers with a one-stop shopping experience for all Jeep-related needs. Find all of the latest Jeep products and connect with other Jeepers around the world at 4WD.com. 4Wheel Drive Hardware stocks a massive inventory of Jeep parts, including Smittybilt bumpers, lift kits, winches, wheels, tires, and more.