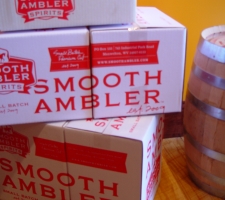 (PRWEB) July 18, 2011
Smooth Ambler Spirits, West Virginia's luxury handcrafted whiskey, gin, and vodka distillery, is excited to announce the addition of a completely new spirit to its repertoire—an aged bourbon.
The long-awaited Smooth Ambler Yearling Bourbon is finally here. In a small batch of 700 pints, the flagship bourbon is expected to sell out within hours.
John Little and John Foster, two West Virginia men with a passion for handcrafted local artisan spirits and organic and eco-friendly practices, founded smooth Ambler in 2009. They knew they wanted an aged bourbon, but also wanted a more versatile product that could be created more immediately. Therefore, they began producing white, unaged spirits—vodka, gin, and white whiskey—while bourbon began aging in new charred quarter casks. That was two years ago, and now that bourbon is aged and ready to be bottled.
Smooth Ambler Whitewater Vodka, Greenbrier Gin, and Exceptional White Whiskey are now found in 12 states in both restaurants and liquor stores. What makes Smooth Ambler different from other luxury brands is simple: each handcrafted small-batch spirit is produced from grain to glass at the Smooth Ambler distillery, using organic and green processes to bottle only the very best product out of each step of distilling.
Smooth Ambler plans to continue producing bourbon, and has already begun the aging process for future small batches.
About Smooth Ambler Spirits
Located in the rural Greenbrier Valley and dubbed "West Virginia's world-class hooch," Smooth Ambler Spirits uses state-of-the-art distillery equipment in conjunction with natural resources of the region: high-valley mountain air, natural waters, ideal temperature variations and friendly folks. These elements, combined with a hands-on, grain-to-glass distilling, cutting and filtering process, create a truly remarkable drink best enjoyed one slow sip at a time. Smooth Ambler Spirits produces its spirits at the highest and purest level possible anywhere in the world and with uniquely handmade and delicious results.
###