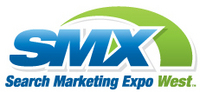 Redding, CT (PRWEB) January 7, 2010
Three comprehensive workshops conducted by leading experts in search marketing have been added to the Search Marketing Expo - SMX West conference schedule.
SMX West will be held March 2-4, 2010 at the Santa Clara Convention Center in Santa Clara, CA. The conference agenda features more than 50 sessions over three days and a keynote address by Microsoft CEO Steve Ballmer. See the SMX West agenda at http://searchmarketingexpo.com/west/2010/agenda.
The workshops will be held March 5, 2010. Attendees can choose from:
Bruce Clay SEO Training: Bruce Clay is one of the most knowledgeable, experienced and quoted search marketers on the planet. Bruce's SEO Training workshop teaches marketers how to implement an effective search engine optimization process. He'll cover how a search-engine-friendly web site impacts traffic, conversions and online revenue. And he'll get down to the nitty gritty, white-hat-only tactics that improve site performance.
Google Analytics Training: Google Analytics is free, but only valuable if you know how to use it. Learn to optimize web traffic and drive conversions by planning an analytics strategy, understanding reports and defining what constitutes success for your business. This workshop is led by experts Brian Clifton, the former head of Web Analytics for Google EMEA, and Feras Alhlou, a Google Analytics Authorized Consultant and founder of E-Nor, a web marketing agency.
In-house SEM Exchange: In-house search marketers face unique challenges. That's why Jessica Bowman, a leading advocate for in-house SEO, created this all-interactive workshop focused exclusively on the issues faced by in-house search marketers. The content is guaranteed relevant because attendance is limited to in-housers. Attendees will share solutions and build relationships. It's unlike any event you have ever attended!
Tickets to these workshops are limited, so prospective attendees are encouraged to register early. Combination SMX West All Access + Workshop passes are priced at $1,945 until the end of January, and include access to all four days of sessions, keynotes, networking activities and meals.
Passes for the Workshops only are also available and priced at $795 until January 31, 2010.
Register at http://searchmarketingexpo.com/west/2010/register .
About Search Marketing Expo - SMX West and Third Door Media
SMX West 2010 features sessions just for you, whether you are just starting out in search or looking for advanced tactics, work on an in-house SEM team, hail from an agency, or own your own business.
Attend SMX West for:

Exceptional content so compelling, you'll want to implement what you've learned before leaving the conference. Super-charged sessions on PPC, SEO, local search, search friendly design and social media marketing will help you succeed today, tomorrow and in the future.
Invaluable connections made possible by the ultimate mix of structured networking opportunities and social events. SMX makes it easy to make new contacts and exchange ideas with industry thought leaders and colleagues.
Essential conveniences to help you juggle your every-day responsibilities while maximizing your conference time: always-available and free Wi-Fi; hot lunches, snacks and beverages all day; access to all presentations and tools to plan your custom itinerary.
The Search Marketing Expo - SMX conference series is produced by Third Door Media, Inc. Third Door Media's mission is to empower internet and search marketing professionals by providing trusted content and community services they need to be successful. Search Marketing Expo conferences are held around the world and include: SMX West (Santa Clara, CA), SMX East (New York City), SMX Advanced (Seattle, WA and London, England), SMX Munich, SMX Toronto, SMX Sydney, SMX Xiamen (China) and SMX Stockholm.
Third Door Media publishes Search Engine Land, the leading search marketing news and analysis site. The company also produces Search Marketing Now, a lead-generation marketing solution for suppliers of SEM-related products and services, and operates Sphinn.com, a social news site that allows search and internet marketers to share news stories, participate in subject-specific discussion forums, and build their professional networks.
# # #