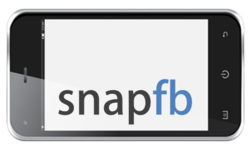 Online privacy experts will most certainly criticize snapfb for being too intrusive – but absolutely no one can say that this is not a breakthrough app
(PRWEB) March 20, 2013
How cool would it be to see someone across the street and know all about them even before the customary - "Hello"?
Apparently the developers at Minus6 Interactive thought it was a great idea. The company has developed what they think is the coolest mobile app in the world - allowing users to click a picture of anyone using their cell phones and instantly find the matching Facebook profile.
The app is already drawing a lot of mixed reactions and is sure to spark debates. "Online privacy experts will most certainly criticize snapfb for being too intrusive – but absolutely no one can say that this is not a breakthrough app," said Harish Nayak, Marketing Manager for snapfb.
A 3.8 billion strong database powers the app which reaches 92% of all Facebook users around the world – roughly translating to 900 million people.
Leveraging a uniquely developed face recognition algorithm – snapfb is able to deliver results with an 88.6% accuracy. In other words 9 out of 10 times, users will get the exact matching profile of the person in the picture.
Scheduled to be launched on June 15, 2013 – snapfb is priced at $19.99.
The company has also rolled out an interesting crowd funding strategy allowing users to pre-order the app for $9.99 at http://www.snapfb.com for a limited period. 22,000+ customers have taken up the offer within the first 48 hours.
"The response is truly overwhelming and it is just the kind of support we need. This is probably the first mobile app that is 100% funded by customers. It helps us stay more focused to our users rather than spending our time pleasing VC's and Investors," added Harish.
To know more, please visit snapfb website or contact Harish Nayak.