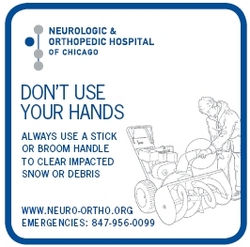 That's why I believe in educating individuals on the dangers in hopes of keeping them injury-free.
Chicago, IL (PRWEB) December 20, 2008
As more people use snow blowers to shovel out their driveways this winter, the Neurologic & Orthopedic Hospital of Chicago (NOHC) warns them of the dangers associated with not properly using the machines. The hospital is introducing a new pamphlet, which includes a warning sticker that can be affixed to the snow blower machine, on preventing and treating snow blower injuries.
Every year hundreds of people suffer maiming or amputations of their fingers or hands from the improper handling of snow blowers. Usually the victims are men, and the injury is on their dominant hand and involves amputation, fracture or dislocation of fingers.
"I have seen an increasing number of hand injuries from snow blowers," says Michael Vender, M.D., a board-certified orthopedic hand surgeon who is highly skilled in performing the most advanced hand, wrist and elbow surgery. "That's why I believe in educating individuals on the dangers in hopes of keeping them injury-free. "
Here are some of Dr. Vender's tips:

If the snow blower jams, turn it off and disengage clutch
Wait five seconds after shutting machine off to allow blades to stop rotating
Always use a stick or broom handle to clean impacted snow
Beware of the recoil of the motor and blades after debris has been cleared
Never put your hand down the chute or around blades
Keep all shields in place
Keep hands and feet away from all moving parts
Never leave a snow blower unattended while it is running
Vender adds that if an injury should happen, the wound needs to be wrapped in clean, sterile dressing and pressure applied. If amputation occurs, the amputated part should be wrapped in sterile gauze and placed in a clean container with ice. Of course, a doctor's immediate attention is mandatory. To reach Dr. Vender in case of a hand emergency, call 847 956-0099.
The booklet can be obtained by calling 773 250-1009 or ordering it online at: http://www.neuro-orth.org.
About the Neurologic & Orthopedic Hospital of Chicago
The Neurologic & Orthopedic Hospital of Chicago is the country's only freestanding acute care hospital dedicated exclusively to neuroscience and orthopedic services. It utilizes breakthrough technology and minimally invasive techniques as well as advanced procedures for neurosurgery, orthopedics, pain management, neuro-oncology, sports medicine, and rehabilitation. For more information on hand injuries and surgery at NOHC, call: 773-250-1000, visit locally at 4501 N. Winchester or log on to http://www.neuro-ortho.org.
###