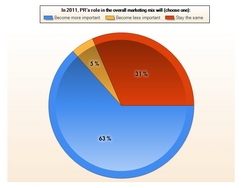 Organizations have found through monitoring that social conversations will occur with or without their participation
Lanham, MD (PRWEB) December 8, 2010
The challenge for everyone with a finger on the pulse of PR or social media for their organization comes down to this: How do we improve on this year's performance next year? Social media, measurement and strategic communications planning are top of the list as areas of focus, according to 508 respondents in survey results Vocus (NASDAQ: VOCS) and research partner Deirdre Breakenridge released today titled, Social Media Comes of Age: The Vocus 2011 Planning Survey.
"Social media will be important for two reasons. First, because organizations have found through monitoring that social conversations will occur with or without their participation," said Breakenridge. "Second, organizations found small victories through experimentation this year and will focus on improving those results next year."
A summary of the findings from the survey include:

PR will be more challenging in 2011. Sixty percent of respondents said PR will be more challenging in 2011. The dynamics of social media and budgets were among the top reasons why.
Budgets expected to improve over 2010. Forty-two percent said they expect budgets to "increase somewhat" or "increase significantly" versus 29% that said the same last year. In addition, 20% said budgets would "decrease somewhat" or "decrease significantly" versus 29% that said the same last year. Search professionals and advertisers were the most optimistic about budgets.
PR and marketing playing nicer in the social media sandbox. Twenty-three percent of respondents said marketing is leading social media efforts while PR is contributing, while 22% of respondents said PR is leading social media efforts with several other departments contributing. These two categories received the highest rankings among six options.
High marks for social media maturity on self-evaluation. Organizations overwhelmingly gave themselves high marks for social media maturity, with 67% saying they are participating, sharing and contributing to social conversations.
Vocus surveyed 508 professionals from October 26, 2010 to November 21, 2010 to find out. While about half of the respondents were PR professionals, the rest were comprised of a mix, including social media specialists, advertisers and search marketing professionals.
This year's survey results are available for download with registration on Vocus' Website: http://www.vocus.com/resources/public-relations-planning/index.asp
A copy of last year's survey results are also freely available on SlideShare.
Media note: Survey respondents were predominantly from the United States, fairly senior in experience and more than half most closely identify their role as public relations. Thirty-five percent of respondents work for corporations while 29% work for agencies – these two groups accounted for 325 of the 508 total respondents – and were the only groups asked to identify if their organization was B2B, B2C or B2G. Members of the media, research or blogging community interested in specific cross-tab analysis based on the survey demographics should send an e-mail to fstrongvocuscom.
About Vocus
Vocus, Inc. (NASDAQ: VOCS) is a leading provider of on-demand marketing and PR software. Our web-based software suite helps organizations of all sizes to fundamentally change the way they communicate with both the media and the public, optimizing their visibility and increasing their ability to measure its impact. Our on-demand software addresses the critical functions of earned marketing including media relations, news distribution, news monitoring and social media. We deliver our solutions over the Internet using a secure, scalable application and system architecture, which allows our customers to eliminate expensive up-front hardware and software costs and to quickly deploy and adopt our on-demand software. Vocus is used by more than 30,000 organizations worldwide and is available in seven languages. Vocus is based in Lanham, MD with offices in North America, Europe and Asia. For more information, please visit http://www.vocus.com or call (800) 345-5572.
This release contains "forward-looking" statements that are made pursuant to the Safe Harbor provisions of the Private Securities Litigation Reform Act of 1995. These are statements that are predictive in nature, that depend upon or refer to future events or conditions, or that include words such as "may," "will," "expects," "projects," "anticipates," "estimates," "believes," "intends," "plans," "should," "seeks," and similar expressions. This press release contains forward-looking statements relating to, among other things, Vocus' expectations and assumptions concerning future financial performance. Forward-looking statements involve known and unknown risks and uncertainties that may cause actual future results to differ materially from those projected or contemplated in the forward-looking statements. Forward-looking statements may be significantly impacted by certain risks and uncertainties described in Vocus' filings with the Securities and Exchange Commission.
The risks and uncertainties referred to above include, but are not limited to, risks associated with possible fluctuations in our operating results and rate of growth, our history of operating losses, interruptions or delays in our service or our Web hosting, our business model, breach of our security measures, the emerging market in which we operate, our relatively limited operating history, our ability to hire, retain and motivate our employees and manage our growth, competition, our ability to continue to release and gain customer acceptance of new and improved versions of our service, successful customer deployment and utilization of our services, fluctuations in the number of shares outstanding, our ability to integrate acquisitions, foreign currency exchange rates and interest rates.
# # #