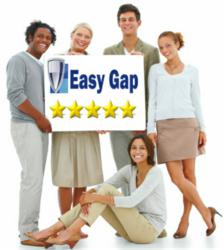 The new Easy Gap is designed to increase Social Media integration
Wirral, UK (PRWEB UK) 27 November 2012
UK based niche insurance provide Easy Gap have released details on how the newly designed brand website has provided new marketing avenues. The leading Gap Insurance provider have explained the process behind the redesign process, and how the implementation has increased consumer visits as well as retention.
Easy Gap have also integrated a new 'blog' feature and enabled greater social media recognition with new Facebook, Twitter and Google +1 links. A company spokesperson explained how the new approach has been implemented.
"There is little doubt that brands need to reach out more than ever before. Competition online is strong, and it simply is not enough to have a strong position in the search engine listings. For this reason we have now integrated our Social Media accounts into the new Easy Gap website. We can now allow site visitors via Facebook, Twitter and Google +1 platforms, as well as providing a more informal 'blog' facility.
These functions allow us to speak about areas outside our world of Gap Insurance. Easy Gap can comment on a range of subjects from driving in the recent heavy rain in the UK to the top 10 most stolen cars in the country. This gives us then chance to talk about associated subjects that can be of interest for our customers.
Easy Gap also has an 'in house' marketing team who provide this information, as well as keeping our social media followers up to date with other campaigns we are involved in. One such Government Scheme we promote is the Know Before You Go campaign, providing information for people using their vehicles to travel abroad.
Our new website provides much more scope for these resources, and the Easy Gap brand will seek to expand on these in the coming months."
Easy Gap is a leading Gap Insurance brand providing Guaranteed Asset Protection products to the UK public. Easy Gap was featured amongst the top Gap Insurance providers in the Which Report in 2012.