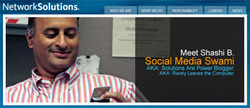 The Solutions Stars Video Conference will be of great service to small businesses, particularly now that the economy has gotten tough, and it's not as easy to attend a conference in person
Herndon, VA (PRWEB) October 27, 2008
Network Solutions®, a leading provider of Web-based solutions for small businesses, is producing the Solutions Stars Video Conference on October 29, at 1 p.m. EST. The free video conference will provide insights and online marketing tips to small business owners and entrepreneurs.
Network Solutions Social Media Swami, Shashi Bellamkonda, led a team that interviewed 32 of the world's top bloggers at BlogWorld Expo this past September. The video conference features nine different documentary style video sessions that cover the following topics:
Building Web Presence
The Social Opportunity
Start with Listening
Strategy Drives Outreach
You Need Social Networks
To Blog or Not to Blog
Visibility Through Search
Rising Above the Noise
Time Demands
"The Solutions Stars Video Conference will be of great service to small businesses, particularly now that the economy has gotten tough, and it's not as easy to attend a conference in person," said Bellamkonda. "It's our way of listening to our customers, and responding by providing them valuable information to help grow their business. The conference also fits in with our larger content offering via the Solutions Are Power blog, another offering aimed at helping small businesses."
Some of the bloggers interviewed include:
Tim Ferriss, Best Selling Author of Four Hour Work Week
Guy Kawasaki, Co-Founder, All-Top
Tony Hsieh, CEO of Zappos
Darren Rowse, Author, ProBlogger
Chris Brogan, Vice President of Strategy, CrossTech Media
Rohit Bhargava, Author of Personality Not Included
Brian Solis, CEO of FutureWorks
Wendy Piersall, CEO of Sparkplugging.com
Lionel Menchaca, Chief Blogger, Dell
Steve Hall, Publisher and Editor of Ad Rants
Scott Monty, Global Digital and Multimedia Communications Manager, Ford Motor Company
Liz Strauss, Social Web Strategist, Successful Blog
Toby Bloomberg, CEO, Bloomberg Marketing
In addition to the main site, please visit the Solutions Stars Video Conference event pages on Facebook® and Upcoming:
Facebook.com/event.php?eid=33854706886
upcoming.yahoo.com/event/1200021
About Network Solutions:
Network Solutions®, a leading provider of e-business solutions for small businesses, offers a full range of services that includes Web hosting, Web design, e-commerce software, search engine marketing, SSL certificates, e-mail services and domain name registration. Network Solutions draws on 29 years of experience to make it simple and affordable for customers to build and manage an online presence through a one-stop Web solutions provider. For more information visit About.networksolutions.com.
# # #