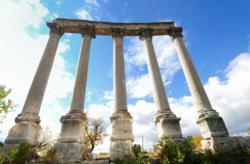 As an intellectual, I have always loved museums and museum stores.
San Francisco, CA (PRWEB) April 16, 2013
Jason McDonald, a top Social Media Marketing corporate trainer in the San Francisco Bay Area, is proud to announce that he has successfully completed a corporate training workshop in social media marketing for museum stores at the recently concluded MSA Conference and Expo. The MSA Conference and Explo is the leading conference in the United States serving the needs of museum stores and shops.
"As an intellectual, I have always loved museums and museum stores," explained Dr. McDonald. "Today's transformation of marketing into a social activity through Facebook, Pinterest, YouTube and other forms of social media ideally positions museum stores to exploit social media to build stronger ties to prospects and customers. Indeed, many museum stores can nurture a vibrant social media marketing ecosystem that even includes customer evangelists!"
More information can be found about Jason McDonald at: http://www.jasonmcdonald.org/.
Museum Store Association Conference - Dr. McDonald's Presentations
Jason McDonald Social Media Training Workshop at the MSA Conference, 2013 Dr. McDonald presented on two topics. First, he presented an overview of social media marketing tailored to the needs of museum stores. The workshop was entitled, 'From the Real to the Social and Back Again,' and focused on how real world interactions at the 'cash register,' for example, can nurture into multiple interactions across social media, and on the flip side how social media interactions such as Twitter feeds can bring customers into the museum and the affiliated museum store. The second presentation was a 'Spark Session,' and consisted of Dr. McDonald's top ten TODO's for museum stores in the social media marketing aspect. "I was really impressed with the short format spark sessions," explained Dr. McDonald. "This was a great way to compress information into actionable advice!"
ABOUT JASON MCDONALD - SEO / SOCIAL MEDIA CONSULTANT
Dr. Jason McDonald is a recognized SEO consultant in search engine optimization, Internet marketing, and search marketing based in the San Francisco Bay Area / Silicon Valley. Dr. McDonald received his Ph.D. from the University of California in 1992, and has worked at many hi-tech start up's in the San Francisco Bay Area. In addition, Dr. McDonald is Senior Editor at eg3.com, a web portal and email service covering hi-tech embedded systems on the Internet, founded in 1994. Recently, Dr. McDonald has begun teaching marketing, market research and Internet marketing at Bay Area institutions such as AcademyX and BAVC University.
Dr. McDonald can be found on the Internet at http://www.jasonmcdonald.org, a website focused on search engine marketing, SEO, and other Internet marketing issues with in-depth free information on SEO, Page Tags, Google Analytics, Metrics, Link building, Free SEO Tools and more. He can also be contacted by telephone at +1-702-879-4771 or email, jasonmcdonald.blog(at)gmail(dot)com.