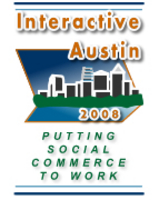 Putting Social Commerce to Work
Austin, Texas (PRWEB) May 15, 2008
Business District Magazine announces Interactive Austin 2008, "Putting Social Commerce to Work," a regional forum to discover how to integrate social media, Web 2.0 tools and digital media into the corporate marketing plan to improve profitability. The conference will be the first of its kind in Austin and will highlight the social media and interactive professionals in the Central Texas area.
The June 19th event will be held at the JJ Pickle Research Campus and will include keynote speakers Brian Magierski, Cofounder & Chief Development Officer, nGenera™ Corporation, formerly BSG Alliance; and Pete Hayes, VP of Corporate Marketing & Communications, AMD.
Widespread community support for the conference includes a title sponsorship from FG SQUARED, sponsorship by Live Oak 360, lunch sponsorship by Apogee Search and support from the contributing organizations of Opportunity Austin and the Austin Interactive Marketing Association (AustinIMA).
"Austin has a solid base of companies that are embracing the new social commerce practices as an improved way of conducting business online -- and doing it from Austin, Texas," comments Tony Schum, who specializes in Digital Media at Opportunity Austin. "The Chamber fully supports the organic job growth and recruitment of social and interactive media businesses to Austin, as they make their customers more competitive and generate new streams of wealth for companies that effectively harness the new media."
Magierski will open the forum and address "Social Commerce and Its Impact on Business." Hayes will open the second half of the conference with "Get into the Click-stream: An Alternative to Driving Traffic to Your Site." Panel discussions offered throughout the day will explore a wide range of important social media and Web 2.0 issues that impact business performance.
"The Interactive Austin 2008 forum will break important ground in facilitating corporate conversations about social commerce," states Steve Golab, CEO and President of FG SQUARED. "When properly executed, these practices can assist corporations to protect their ROI and improve profitability. We are proud to sponsor this particular conference since it highlights the position that Austin's companies deserve as forerunners in the global digital race."
The forum's distinguished roster of area presenters from a wide spectrum of regional companies will offer their industry expertise, updates and practical solutions to address the evolution and impact of social commerce on business productivity. Corporations can learn about the digital resources that exist here in Central Texas and tap into talent within our own community
"With a membership that runs the full gamut of digital media, AustinIMA is taking a leading role in spearheading the integration of social media and commerce," states William Leake, President of the AustinIMA and President of Apogee Search, an Austin-based, top-20 search agency. "We're looking forward to this new conference as the digital revolution continues to change the face of business."
Representatives from Accolades PR, AMD, Apogee Search, Austin American-Statesman, AvenueA/Razorfish, BazaarVoice, BusinessWire, DexterityMedia, Digital Voodoo, Every Dot Connects, GigaOM, MashBrain, Mercury Mambo, Mosasaur Marketing & Technology Consulting, nGenera™, Tom Parish Inc., PIPO Management Consulting, Pluck, Polycot Associates, ProAce Technologies Services, RefreshWeb, Small World Labs and Social Media Power will be providing thought leadership at the conference.
More details -- including sponsor packages, exhibit details and on-line registration are available at InteractiveAustin2008.com
About Business District Magazine
Business District Magazine is published bimonthly to a circulation of 10,000 readers throughout Central Texas and provides content and editorial that is relevant to the local business community, showcases innovative business models and fosters the area's entrepreneurial spirit. Business District also publishes an email newsletter, BD Tech Daily, three times per week to the Central Texas Technology community and hosts several conferences every year that promote area business growth, including the Central Texas Entrepreneur Funding Symposium, and The Austin Open4Business Conference. Subscriptions to the magazine, newsletters and conference information can be found at abdmag.com
###