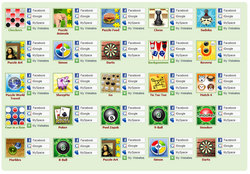 More than 39 million matches have already been played courtesy of Come2Play and the number is constantly rising.
Haifa, Israel (PRWEB) July 16, 2008
Come2Play, a developer of a unique platform for multiplayer casual Flash games, today launched a white-label social gaming network platform. The new platform offers Web site and blog owners the opportunity to create a social gaming network by means of embedding a multiplayer games channel. All games can be spread from this channel as an applications and widgets.
Come2Play allows Web site and blog owners to create a private labeled/skinned version of games galleries, channels, applications and widgets. By integrating fully featured multiplayer game channels with widgets, and applications into their Web site, digital content providers can lay the basis for a social gaming community.
"Now, almost every Web site owner can create his own social gaming network. By using our free platform, Web site owners can create a social community that combines players from different social networks, personal pages, blogs and Web sites based on live, real-time interaction," said Alon Barzilay, co-founder and CEO of Come2Play. "More than 39 million matches have already been played courtesy of Come2Play and the number is constantly rising."
Come2Play's game channels include some of the world's most popular games, such a Chess, Checkers, Go, Reversi, and Sudoku, and will soon offer original new games based on unique concepts.
Come2Play offers Web site owners the opportunity to enrich their sites with the latest and coolest social features, such as chatting, lobbies, tables, point systems, player rankings, game ratings, player rewards, tournaments as well as redeeming points for gifts.
Come2Play also offers Web site owners maximum distribution. The company gives Web site owners maximum exposure through concentrated distribution tools. Next to each game Come2Play's platform provide the option to copy games and place them as widgets and apps in iGoogle, Facebook, MySpace, Orkut, meebo, and with Google's Open Social partners. These widgets and apps carry the web site owners' logos and link back to their Web sites.
About Come2Play:
Come2Play is a developer of innovative white-label social gaming platforms for multiplayer online flash games. Come2Play's platform allows digital content providers to create multiplayer flash games channels with social features such as player databases for tracking scores, tournament management systems, players' comments and friends' connections, which can then be distributed to any site, using Come2Play's online tools.
Come2Play's products and services create new social gaming opportunities for any Web site or blog, regardless of their size, location or language, while eliminating the costs associated with developing such features.
The company's platform runs on leading international venues including Facebook, MySpace, iGoogle, meebo, Zapak India, MSN Israel, and superEva Italy.
By using Come2Play's platform, anyone can create and embed his own social gaming network platform with channel, widgets and applications.
For additional information, please visit http://www.come2play.com.
Company contact:
Alon Barzilay
Co-founder and CEO
Come2Play
Tel: 972-52-5296668
Email: alon(AT)come2play.com
###