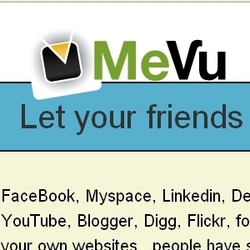 San Luis Obispo, CA (PRWEB) November 27, 2007
MeVu.com, a popular site for letting people build profile pages that show their friends where they live and work on the internet, has now added an associated Facebook application. Now, a MeVu member's list of personal blogs, social pages, forum profiles, resumes, works, products for sale, and anything else, can also be neatly listed right on that their Facebook profile, as well as their MeVu page.
MeVu is unlike the various "profile aggregator" sites typically used to show a person's handles to social networking sites. MeVu throws out this rigidity in favor of allowing a person to enter a link to any page of theirs, no matter what type it is, add a description, and order them as they wish within categories of their own naming. A MeVu user ends up with a page showing their friends everywhere they live and work on the internet. Some examples are MeVu.com/NatashaMiller (singer), MeVu.com/Radiobuzz (author), MeVu.com/SugarCube (realtor), and MeVu.com/stephen (social networker). Friends, fans and customers can access a profile with the url MeVu.com/username, and many buttons and associated code are supplied, in both English and Spanish, that can be placed on the MeVu members various pages. A simple MeVu.com/username can then be used for every "My Website" field found everywhere; no more need to choose which of a person's many sites to place there.
In addition, Mevu allows you to enter various other information about yourself, provides a secure Contact Me form, and RSS feed, Meta tag insertion, and previews of the user's own RSS feeds for their friends to see. You'll find even more features when you visit the site.
But the newest feature is the all-important Facebook Application. By simply adding the application in Facebook (search for MeVu), and supplying your MeVu username, once can display all their links, in the order they set and in the categories they defined, right on their Facebook profile page. They'll have options to suppress or length limit category or link descriptions to save space. This screenshot shows a live MeVu section from a user's Facebook page.
Visit Mevu at:
MeVu.com
Facebook's MeVu "About" Page
###