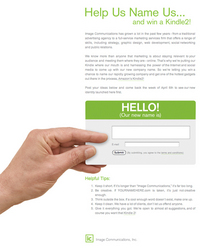 We create, execute and manage social media campaigns for nearly all of our clients, so we felt like this was an opportunity for us to tap into our own expertise to help us name our rapidly growing company
Knoxville, TN (PRWEB) March 26, 2009
Marketing services firm, Image Communications is employing the power of social media technologies to come up with a new company name. Creative-thinkers are encouraged to visit http://www.helpusnameus.com before April 3 for a chance to name the company and win an Amazon Kindle2.
The upcoming rebrand comes after a year of major growth within the company. Once a traditional advertising agency, Image Communications has evolved into a full-service marketing services firm that offers a range of skills, including strategy, graphic design, web development, social networking and public relations.
"We create, execute and manage social media campaigns for nearly all of our clients, so we felt like this was an opportunity for us to tap into our own expertise to help us name our rapidly growing company," said Brian Winter, CEO of Image Communications. "Companies spend hundreds of thousands of dollars renaming using conventional agency approaches. We thought this was a chance to prove that naming can be done more effectively and efficiently using the power of social media."
Due to the massive growth of web 2.0 technologies, Image Communications will be using only social mediums such as Twitter, Facebook, StumbleUpon, employee blogs, social news and social bookmarking sites to promote the contest. Twitter alone has grown 1382% in the past year and boasts over 7 million members. Facebook, which grew 240% from 2008 to 2009, has over 65 million active members.
The winning name will be chosen by the Image Communications team and announced during the week of April 13. The entrant who suggests the new name will win Amazon's new wireless reading device, the Kindle2. Priced at $359, Kindle2 works on 3G wireless, allowing users to download books anytime, anywhere, with no monthly fees or service plans.
Image Communications encourages entrants to visit http://www.imagecommunications.com to learn more about the company before entering the contest.
About Image Communications, Inc.
Founded in 2000, Image Communications delivers high quality marketing services in the areas of strategy, traditional advertising, web development, online marketing and public relations for established and emerging local and national businesses. Image Communications combines business expertise with award-winning creative genius to deliver marketing solutions that produce results. Contact Image Communications at 865-693-6934 or visit http://www.imagecommunications.com for more information.
# # #