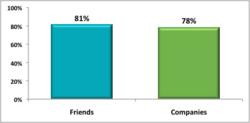 Using social media monitoring, brands can mitigate the downside by pulling negative comments into a private conversation, and maximize the upside by giving consumers an easy way to engage.
BOULDER, Colo. and Milton Keynes, UK (PRWEB) May 01, 2012
Social media posts by businesses influence consumers' buying decisions as much as their friends' posts do, according to a new study from Market Force Information. The study found that 81% of U.S. consumers are influenced by their friends' social media posts, while a comparable 78% are influenced by vendors' posts, suggesting that company-driven social media content is surprisingly powerful in driving purchase decisions.
The survey of more than 12,000 consumers by Market Force, a worldwide leader in customer intelligence solutions, was designed to understand how U.S. and UK consumers use social media. It explored how they interact with retail, restaurant, travel, entertainment and financial businesses on social media channels like Facebook, Twitter, LinkedIn and Google+ in both North America and Europe.
When asked how their friends' social media posts affected their purchase decisions, 81% of U.S. respondents said they were moderately-to-highly influential. Nearly an equal number – 78% - said the posts by companies they follow on social media impact their purchases.
UK Lags Slightly in Social Media Usage
Market Force's other findings also reinforce the fact that consumers are living in a social media world. Ninety-five percent of U.S. consumers surveyed indicated that they have a Facebook account, and 62% have a Twitter account. What's more, all of the U.S. respondents reported using some form of social media, whereas 14% of UK consumers surveyed said they do not use social media.
Are Companies Missing a Social Opportunity?
The survey also found that consumers are turning to those social networks to glean information and opinions about restaurants and retailers from their friends. In the United States, 60% said they gather insights on companies from their friends' social media posts. In the UK, about half said they do.
On both sides of the pond, about one in 10 posted something negative about a business on a social media site, but more than two-thirds of the time, companies do not appear to be listening. Those who admitted to negative posts said they were not subsequently offered the chance by that company to provide feedback to the retailer or brand through a satisfaction survey, special website or other means.
I Really, Really "Like" You – Now Give Me Something
Also revealing was that 76% of U.S. respondents, compared to 65% of UK respondents, regularly "like" the Facebook page of restaurant, retail, travel, entertainment and financial services businesses. Nearly half of those – or 46% – indicated that they followed those businesses on Twitter. In both the United States (79%) and the UK (67%), the number one reason given for consumers who "like" a company's Facebook page is to take advantage of incentives or discounts offered for joining their page. See Graph 2.
American consumers "like" restaurant pages (86%) on Facebook more than any other category, with retail second most popular (75%) and entertainment ranking third (65%). Meanwhile, UK consumers are more prone to "like" entertainment business pages (76%), followed by retail (73%) and then restaurant pages (71%). Financial services pages came in last among both groups, mentioned by only 13% of U.S. and 7% of UK respondents. See Graph 3.
"Social media channels create an ideal two-way platform for direct conversations with customers. What's striking is that consumers have more positive things to say than most brands realize," said Janet Eden-Harris, chief marketing officer for Market Force. "Using social media monitoring tools, brands can mitigate the downside by pulling negative comments into a private conversation, and maximize the upside by giving consumers an easy way to engage. There's no reason not to take the plunge. Consumers are out there talking about you."
In the Twitter world, entertainment-oriented businesses attract the greatest following. Eighty-one percent of U.S. and UK consumers said they follow companies in that category, followed by 65% who follow retail companies and 53% who follow restaurants.
Study Demographics
Market Force conducted the survey on social media preferences in February 2012. The pool of 12,000 survey respondents—half in North America and half in the UK – ranged in age from 18 to more than 65. Seventy-five percent were women, the primary household consumer purchasers.
For more information on Market Force's customer intelligence solutions, visit http://www.marketforce.com/customer-intelligence.
About Market Force Information
Market Force is the leading global customer intelligence solutions company for multi-location businesses, including major retailers, restaurants, grocery and convenience stores, financial institutions, entertainment studios and consumer packaged goods companies. With more than 125 years of combined industry experience, Market Force Information has pioneered the industry with a suite of customer intelligence solutions – from 600,000 field associates across North America and Europe who conduct mystery shopping, merchandising and retail auditing, to real customer surveys and proprietary decision-support tools. Its solutions provide a holistic view of the customer's on-site experience and identify the actions required at the store level to increase customer loyalty and improve financial performance. Market Force was named one of Forbes' America's Most Promising Companies in 2011. For more information, visit http://www.marketforce.com.