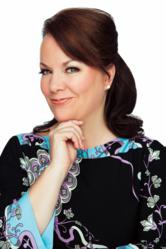 "Women are connecting with social media in their business and personal life now more than ever, and we're excited to bring an expert of the social media spheres to the Get RADICAL Conference." ~ Doreen Rainey
Washington, DC (PRWEB) March 19, 2013
Jennifer Abernethy, founder of Socially Delivered™ and The Sales Lounge®, has been named the official "Roving Reporter" and Social Media Stylist for the 5th annual Get RADICAL Women's Conference to be held Friday, March 22 through Sunday, March 24, at the Hyatt Regency in Reston, Virginia.
The three-day women's empowerment event presented by Best Buy and created by Doreen Rainey features a powerhouse lineup of radical women including Giuliana Rancic, anchor of E! News and star of, Giuliana & Bill on the Style Network, Jillian Michaels, Trainer on NBC's The Biggest Loser, Lisa Nichols, best-selling author of No Matter What, Judy Smith, crisis manager and inspiration for the "Olivia Pope" character on ABC television network's Scandal, Angela Jia Kim, founder of Om Aroma & Savor Spa, and Farnoosh Torabi, author of Psych Yourself Rich and contributor to The Today Show on NBC.
Abernethy, known as America's Premier Marketing Stylist, brings her social media savvy and practical tips based on her two-time national author expertise from The Complete Idiot's Guide to Social Media Marketing, along with her premier concierge services of Socially Delivered™ to the role of Roving Reporter for the sold-out, content-rich program. As Roving Reporter, Abernethy will be providing up-to-the-minute updates from the featured speakers, breakout sessions, and hundreds of women doing extraordinary things in their lives.
"It's exciting to have this role at such a high-energy and empowering conference," said Abernethy. "I'm looking forward to capturing the excitement and life-changing moments and sharing these with others via social media so more women can engage and be empowered."
With her recent ranking by Social Media Magazine as one of the Top 50 Social Media Marketing Authors on Twitter in the world, Abernethy is helping to bring social media components to the annual conference. Over 400 women are expected to attend the Get RADICAL Conference. The annual event is held in the Washington, DC region and attracts well-known remarkable women as featured speakers each year.
"Women are accomplishing incredible goals, even in challenging times, and this conference is all about celebrating, education, supporting and uplifting women from all walks of life - both professionally and personally," said Doreen Rainey, RADICAL Success Coach and creator of the Get RADICAL Conference. "Women are connecting with social media in their business and personal life now more than ever, and we're excited to bring an expert of the social media spheres to the Get RADICAL Conference."
In addition to covering the event on social media platforms including Facebook.com/GetRADICALWomensConference and Twitter @DoreenRainey and @SalesLounge, Abernethy will be a speaker in the Entrepreneur Track where she will present insights on the tools leaders of emerging business should be using to develop and leverage the presence of their business in the social media spheres and beyond. Her session will include information on social media community management and the latest insights from her company, Socially Delivered™. During the event, Abernethy (America's Premier Marketing Stylist) will be wearing a wardrobe from Ali Ro and Donna-Morgan.
To connect with Jennifer Abernethy for media interviews before or during the conference, tweet @SalesLounge.
For more information about The Sales Lounge with Jennifer Abernethy, visit http://www.TheSalesLounge.com. To learn more about Socially Delivered™ and the options for social media concierge services for businesses, visit http://www.SociallyDelivered.com.
About The Sales Lounge®
Since 2007, The Sales Lounge with Jennifer Abernethy, has provided a Virtual Learning Lounge for Entrepreneurs, CEO's and professionals across the United States. Led by the author of The Complete Idiot's Guide to Social Media Marketing, the Sales Stylists take the fear out of selling and bring the joy into earning for celebrity clientele and multi-million dollar sales experts. For more information visit TheSalesLounge.com.
About Socially Delivered!™
Socially Delivered™ assists business owners and professionals with creating their powerful digital footprint in this new social media age. The company, founded two-time National Author, Entrepreneur/Sales & Social Business Expert, Jennifer Abernethy, brings a personal concierge experience by blending major social trends in social marketing with your business voice, expertise and offerings on dedicated social platforms along with extraordinary personal service. For more information, visit SociallyDelivered.com or connect with the Social Stylists on Facebook.com/SociallyDelivered or Twitter @WeDeliverSocial.