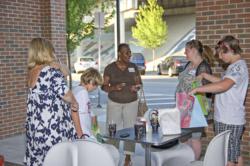 We really see Social Media Day as the beginning, and we'd really like you to use this platform to continue to organize regular meetups in your area.
Tulsa, OK (PRWEB) July 01, 2010
The first ever Social Media Day hosted over 11,000 participants in more than 90 countries. How Fitting that this innovative event in Tulsa took place in the revitalized Historic Greenwood District at Fat Guy's Burger Bar.
Social Media Day, a creation of social media giant, Mashable, celebrated the revolution of media, the way in which media is becoming more social and helping to connect the world.
The evening's event, which was broadcast live via ustream, began with a reception styled wine tasting hosted by the Tidal School Vineyards.
Cheryl Lawson welcomed the participants. Everyone could follow and contribute to the worldwide social media day discussion by using the official hashtag, #smday, as well as the one created for Tulsa, #smdayTulsa.
The first speakers were Mandy Vavrinak and Cindy W Morrison. Mandy and Cindy, both business consultants in their own right, shared their personal experience about the power of connection and how using social media has helped them promote themselves and their clients.
Cindy shared how she was able to reinvent herself after a series of personal setbacks. She is now vying for a show on the all new Oprah network.
Next up was a story that sounds like it should already be on TV. It's the true story of two Tulsa funeral directors trying to make it on the hit CBS show, The Amazing Race. Michael Hallford and Bryan Lee told how just five weeks ago they made the decision to start a Facebook group to promote their desire to be contestants on the award winning reality show.
The fact that in just five weeks the pair, using video uploads and posts to their page has gained over 1400 fans who really enjoy the banter between the two.
The presentation part of the night ended with a few give-a-ways. Sponsors, Share Buds, Tidal School Vineyards, and Cindy W. Morrison provided items to add even more fun and excitement to the event. Then it was on to sampling the main course, Fat Guy's delicious burgers.
"We really see Social Media Day as the beginning, and we'd really like you to use this platform to continue to organize regular meetups in your area." Said Pete Cashmore, Founder of Mashable.
Event specialist, Cheryl Lawson, couldn't agree more. "This was such a wonderful gathering of people who might otherwise never have crossed paths," said Lawson. "The ability to put together this many people in such a short amount of time, is a testament to the power social media has to connect us in ways never seen before."
Taking Cashmore up on his challenge to schedule regular meet ups, Lawson has created a page called Social Media Tulsa which will become the home for social media enthusiasts and people who want to learn more and stay connected.
It was obvious by the crowd's reaction to the meet up that this is only the beginning of a great new community in Tulsa.
About Cheryl Lawson
Cheryl Lawson aka @partyaficionado is the owner and founder of event planning and marketing firm, Party Aficionado
Party Aficionado helps companies develop social marketing strategies both online and Face to Face, using full event coordinating capabilities, and coaching to help companies cultivate their audience before, during, and after events. To learn more, visit http://partyaficionado.com
About Mashable
Founded in July 2005, Mashable is the world's largest blog focused exclusively on Web 2.0 and Social Media news. With more than 25 million monthly pageviews, Mashable is the most prolific blog reviewing new Web sites and services, publishing breaking news on what's new on the web and offering social media resources and guides. Mashable's audience includes early adopters, social media enthusiasts, entrepreneurs, influencers, brands and corporations, marketing, PR and advertising agencies, Web 2.0 aficionados and technology journalists. Mashable is also popular with bloggers, Twitter and Facebook users — an increasingly influential demographic.
###