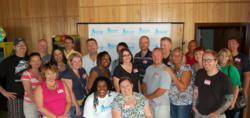 Tulsa, Ok (PRWEB) July 01, 2011
Social Media Day is a global celebration of the technological advancements that enable everyone to connect with real-time information, communicate from miles apart, and have their voices heard.
Tulsa area social media enthusiasts celebrated their one year anniversary meetup at the latest edition to the revitalized downtown area, Dust Bowl Lanes and Lounge.
"Social Media Tulsa began during the Mashable's Social Media Day in 2010," Said Cheryl Lawson of Party Aficionado, LLC and Founder of Social Media Tulsa. "Tonight was a great way to continue our tradition of connecting our community and exploring the cool places in Tulsa… and a great excuse to have cake."
Meetup sponsor, TechRent provided Flip brand video cameras to record attendees' answer to the question "How has social media changed your life?" The videos can be viewed on the Social Media Tulsa Vimeo page.
"After being there for the first Social Media Tulsa meetup a year ago, I loved being part of Social Media Day 2011 at the Dust Bowl Lounge. The group has grown quickly and the connections I've made have blossomed into new clients, new friends, new information and a great experience overall. " Said Mandy Vavrinak, President Crossroads Communications, LLC
"Social media has changed my life, truly. I am more in touch with my world, my extended family and friends, and with my clients. If relationships are the currency of business today, social media is the debit card we use to keep track of the values."
The Tulsa meetup was one of 1,400 Social Media Day Meetups worldwide, and group that gathered at Dust Bowl Lanes and Lounge were among the over 8,000 participants. The 2010 Tulsa Social Media Day Meetup was featured in the video from Pete Cashmore On Social Media Day 2011.
"We're thrilled to see these places recognize June 30 as a celebration of the tools that empower their citizens to communicate, connect, and engage. It's a true show of how much social media has changed our daily lives." Wrote Stephanie Haberman Mashable Community Assistant.
Tulsa area web enthusiasts and those wanting to learn more about social media are invited to join Social Media Tulsa Meetup group.
About Social Media Tulsa
Social Media Tulsa: It all began with Social Media Day Tulsa 2010 at Fat Guys Burger Bar in the historic Greenwood district. Social Media Tulsa is a community that invites its members to gather and talk about the impact of Social Media on business, news, entertainment, sports, nonprofit, and any other topics. To learn more visit socialmediatulsa.org
About Mashable
Founded in 2005, Mashable is the top source for news in social and digital media, technology and web culture. With more than 40 million monthly pageviews, Mashable is the most prolific news site reporting breaking web news, providing analysis of trends, reviewing new websites and services, and offering social media resources and guides Visit Mashable.com to learn more.
###