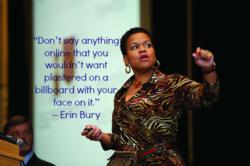 I just wanted to follow-up and contact you again to express how much I enjoyed your classes (I previously took your SFR class & recently completed your ADPR Class). How lucky was I to get you as an instructor, finally, a light at the end of the tunnel
Chicago, IL (PRWEB) March 11, 2013
Marki Lemons-Ryhal an award winning social media speaker and educator of the year has seen a substantial increase in companies booking her to speak about social media. According to a study by Manpower Group, 90% of employers provide no social media training to their staff, yet 73% of Fortune 500 companies now have active corporate Twitter accounts and 66% have a Facebook Page. "Companies have to overcome their challenges which include a lack of social media knowledge, training, and resources in order to remain competitive and not lose sales. Through proper education and training these challenges are easy to resolve" said Marki Lemons-Ryhal founder of Marki Lemons Unlimited. Marki believes that companies should concentrate on the solution and not the problem. Education and training are the solution.
Over the past seven years Marki has been hired as a social media Keynote Speaker, Certified and Licensed Instructor by dozens of associations, franchises, banks, and businesses. Marki teaches them how to implement a strategic social media presence on LinkedIn, Facebook, Twitter, Yelp, Foursquare, Pinterest, and Instagram.
LinkedIn has surpassed 200 million users and Marki Lemons-Ryhal is in the top 1% of profiles viewed. As an active user since 2007, Marki has received 37 glowing recommendations and over 1,000 endorsements. In addition her profile is ranked #1 out of 1,662,149 for the term instructor and #2 out of 1,406,036 for the term trainer.
Since 2009 through utilizing a comprehensive social media strategy Marki's Twitter Grade is 100 out of 100, and her efforts have rendered a Klout score of 66 or higher.
Marki Lemons-Ryhal provides social media education and social media training resources to help organizations train their staff. Education will increase sales and reduce their spending on traditional marketing while leveraging the cost effective tool of social media and inbound marketing. All social media courses address any recent changes and new tools as they occur in real time.
If you would like to learn more about how you could book social media speaker Marki Lemons-Ryhal, click the following link: http://about.me/MarkiLemons .