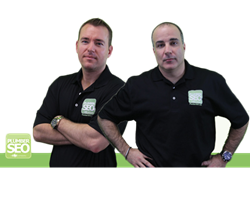 (...) In the past we have earnestly explained how they [social media sites] can each serve specific purposes. However, we have recently been bluntly faced with the superiority of Google+ (...)
Miami, FL (PRWEB) March 21, 2013
PlumberSEO announces the most effective social media for plumbers. The company has accumulated extensive experience providing specialized online marketing services to businesses and contractors in the plumbing industry, and co-founders Josh Nelson and Dean Iodice agree that Google+ has increasingly offered numerous advantages for professional services, specifically the ability to improve listings and rankings on Google searches.
Given the proliferation of new social network platforms, it has become increasingly hard for small businesses to understand which works best for their unique operations, within their available budget. Jim Wagner of Jim Wagner Plumbing in Naperville, IL, a client of PlumberSEO, stated, "We started with just our Facebook page, but next thing we knew that was no longer enough; so we ended up on 4 other channels, and spending our own time on managing them while away from our real business. It wasn't long until we realized that was not a winning proposition and needed help."
The experts at PlumberSEO advise that social media marketing is generally used to create and develop relationships; stay in front of prospects and customers; and gather testimonials - as opposed to directly and immediately generating sales. They say most of the frustration comes from not understanding that concept, but once fully grasped, plumbers have largely benefited from a solid social media strategy.
"We are always asked by plumbing companies about which social media activity is worth their time, and in the past we have earnestly explained how they can each serve specific purposes. However, we have recently been bluntly faced with the superiority of Google + over other social media sites and we are fiercely focusing on what we know to produce the best results for our clients at this time – Google+," declared Josh Nelson.
Nelson says the first major advantage of Google+ for plumbing contractors is its seamless integration with Google+ Local, which makes it possible for them to have one central online location for their company information, service offers, and customer reviews, right off of Google, even before that prospect decides to visit the company website. The second advantage is that the posts and other published information serve as preferred material for Google to qualify for positioning within its search results.
Corroborating with Nelson's position, a survey recently conducted by and published by Vistage International and The Wall Street Journal reported that small businesses have found Twitter to have very little impact on prospects and clients in general. Just a measly 3% of those polled thought that social media platform had the potential to help their companies.
Like Twitter, Facebook, though a stronger platform due to its invaluable referral system through the Like system, also requires high investments of time - and ultimately money - to stay current. But, its newly released beta-test - Graph Search – promises to add longevity to published posts, allowing Facebook users to easily search within their Friends' Likes. "This is an especially relevant feature for our clients in the plumbing industry, as the effort to gather Likes will pay dividends over a longer time period," explained Iodice.
Josh Nelson and Dean Iodice often release free educational and inspiring Podcasts, offering marketing tips and valuable advice to plumbers. The next social media edition will be released on 3/26/13, and can be accessed by clicking here. Further information about social media for plumbers or the upcoming podcast can also be obtained by contacting Josh and Dean directly by phone at 866-610-4647.
About PlumberSEO
PlumberSEO specializes in assisting plumbing & HVAC contractors increase their exposure and grow their customer base by employing online marketing strategies, such as search engine optimization, map optimization, social media management, and various online lead generation tools. Co-founders Josh Nelson and Dean Iodice are co-authors of The Complete Guide To Internet Marketing for Plumbing Contractors, hosts of the Plumbing Marketing Profits Podcast, members of the Plumbing Heating Cooling Contractors Association, and national speakers, conducting educational seminars for plumbers and HVAC contractors throughout the country. The internet marketing experts guarantee the efficiency of their system, which is exclusive to a single plumber per metro area. More information can be found at http://www.plumberseo.net.