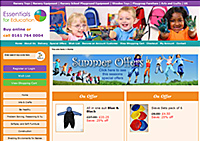 Every small business can gain from demonstrating a commitment to their audience through interacting online and presenting their activities proactively on social media channels
Bolton, Lancashire (PRWEB) June 13, 2011
International testing of the latest generation of IP addresses was completed this month, as hundreds of different businesses took part in 'World IPv6 Day', which also included the participation from the bigger companies; Yahoo, Microsoft, Google and Facebook.
IPv6 is the term for the latest generation of IP addresses, as IPv4, the current system is nearly exhausted. IP addresses are given to every different gadget that can get online- from laptops to games consoles to mobile phones and satellite navigation systems. An IP address is typically a sequence of unique numbers which identify the system gaining online access. The growth of the internet and the gadgets that are able to connect to has resulted in IPv6, which will ensure there are more IP addresses available for new technology.
Daniel Robinson, owner of Vizcom Web Design Bolton, has been monitoring operation of World IPv6 Day with interest. 'This new generation of IP addresses is surely proof of how quickly our technology is evolving. Our gadgetry is becoming more advanced than ever before.' The Google network tested IPv6 across all of its major services including Gmail, YouTube and Google Search for 24 hours.
Donn Lee, a network engineer for social networking giant, Facebook, said that the testing period 'will enable the industry to gain insights about potential IPv6 issues, find solutions and accelerate global adoption of IPv6.'
'Now it's important we realise the potential of the internet as an important asset to our businesses,' says Daniel Robinson of Zen Cart web designers, Vizcom. 'Within a few short years, the internet will be so integrated into the daily routines of everyone, including your potential customers, it's essential that you begin now to represent your company online.'
In recent research it was revealed that small businesses could be missing out as just 23% of companies participate in the phenomena that is social networking. Fasthosts, who conducted the study, reported that only 27% had utilised the internet as a means of contacting their customers, whilst 77% of small business owners had never used any form of social networking website before.
'I've been specialising in Web Design for a number of years,' says Daniel Robinson. 'And it's only recently that business owners are realising exactly how much of an impact the internet can make to the success of their company, not just for the obvious retailing services, but for networking and advertising too. The online market is growing exponentially.'
At one stage at the beginning of this month, social networking site Twitter was gaining 200 new accounts per minute as a result of internet gossip surrounding celebrity super- injunctions. Millions of computer users have now found the leaked names of celebrities who hid behind gagging orders to keep their indiscretions private. 'The human appetite for gossip is natural and insatiable,' concludes Harry Mount, former libel barrister. 'And social network sites such as Twitter are perfectly adapted to satisfy that appetite'.
'If you don't understand the world of the internet, and especially social networking ,' says Daniel Robinson of Bolton Web Design company, Vizcom. 'Now is an opportune time to get started. The beauty of online interactions is that smaller companies can offer more unique, bespoke services with a virtual smile and a more personal touch.
'Of course, not every business owner has the time to learn about the internet, and for the bigger fish, there's a simple solution. The companies with the bigger budgets are quickly realising how important that personal touch offered by smaller businesses is and are reacting accordingly by employing student interns to be their official voice online. 2009 saw the appointment of 22 year-old Alexa Robinson as The Hut's first ever Twintern, responsible for tweeting pictures of new products, boosting the company's Twitter followers from 3,000 to 13,000 within weeks, posting around ten status updates per day.
'Social media is so important because it's all about the conversation, 'says Pizza Hut's marketing director. 'We find out quickly what they like and what they don't like and where we should go as a company with our products.' If your primary business purpose is retail, so many new users flocking to Twitter is surely good, especially if you can send products or services internationally.
And even if it all sounds foreign, eCommerce Web Design Manchester expert Daniel Robinson advises business owners to give such platforms a try. 'I regularly provide advice to technophobic business owners, and recently released two Top Ten lists, encouraging them to learn about how they can optimise their company presence online both before the creation of their website and after, when self-promotion is the key to success.'
Other statistics from the Fasthost research confirmed that 1 in 5 business owners confessed that they may have been 'held back' by a lack of research into online solutions. 'Search engine optimisation is a service offered by many companies nowadays,' says Daniel Robinson from Vizcom web design Bolton. 'But I think it's important for businesses to realise that they themselves can do things to optimise their website, saving money and learning new skills.'
'Research shows that consumers can now expect to analyse online reviews and branded multi-media as part of their online purchasing decisions,' commented Steve Holdford. 'Every small business can gain from demonstrating a commitment to their audience through interacting online and presenting their activities proactively on social media channels.'
'The success of IPv6 Day is an indicator of how integrated the internet is about to become,' says Bolton Website Designer, Daniel Robinson from Vizcom. 'And I'm advising business owners everywhere that this is only the beginning. There is no better time to learn about the online world and how your company can succeed within the virtual marketplace.'
To read the Top Tens, or enquire about Web Design Bolton, and Search Engine Optimisation Manchester, contact: http://www.vizcomdesign.co.uk
###