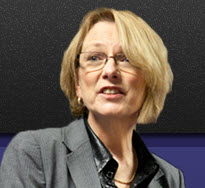 Knowing where you're going is irresistibly attractive and being irresistible is a strategy. - Liz Strauss
Tulsa, OK (PRWEB) January 10, 2012
Social media sites like Twitter, Facebook, Youtube, Foursquare, and Google Plus along with the popularity of tablets, ultrabooks, and smartphones have forever changed the way we communicate, connect, and consume information.
Social Media Tulsa, the area's most active social media group, has rapidly become the place for thought leaders and newbies alike to share tech, mobile, and social media best practices.
March 15-16, 2012, Social Media Tulsa will host the second annual #SMTULSA Conference at the Hyatt Regency in downtown Tulsa.
"Last year's attendees asked for more and we're giving them more," said Cheryl Lawson, of Party Aficionado,LLC and founder of Social Media Tulsa. "I'm thrilled to have Liz Strauss give the keynote that will kick off the now two day #SMTulsa conference."
Liz Strauss is a business strategist, product analyst, and master teacher who works with international corporations, small business, and entrepreneurs to create high-growth strategy based on influence, impact, and irresistible difference. She's a dynamic speaker and a maven at engaging with the people who help a business thrive. Liz is co-founder of SOBCon. SOBCon is the business strategy workshop event that grew out of her popular Successful-Blog.com, an online publication which carries 4,300 articles and has 94,000 reader comments.
Liz has built strategies and products with an international network of businesses on four continents and teaches a yearly course session at the Masters Degree Level for the Digital Publishing Program at City University of London.
"Knowing where you're going is irresistibly attractive and being irresistible is a strategy," said Strauss. "Strategy is a realistic plan to leverage opportunity. That starts with a clear vision and mission. A focused mission makes the roadblocks irrelevant and turns challenges into opportunities."
In 2011, Liz Strauss was the awarded the prestigious title of Titan of Web 2.0 at the World Forum 'Communication on Top' in Davos, Switzerland, and she is the highest ranked woman on Dun and Bradstreet credibility Corp's 68 Most Influential Small Business People on Twitter. Liz has been named twice to the Top 100 Social Media and Internet Marketing Bloggers list. She was also named to the Top 100 Most Influential Marketers and Top Social Media Strategists To Watch lists.
Liz is among an impressive list of conference speakers and keynotes, including last year's keynote speaker, Becky McCray who returns this year to open day two of the conference.
"When we walk away from Social Media Tulsa Conference, I want all of us to be inspired, motivated, and armed with new connections and friends," added Cheryl. "I'm confident that Liz and all of our speakers will provide us with the tools to begin strategies that meet both our personal and business goals."
Conference Registration is available via Eventbrite.com, or directly from the Social Media Tulsa website, http://socialmediatulsa.org.
About Social Media Tulsa
Social Media Tulsa is the area's most active social media group. #SMTulsa has rapidly become the place for thought leaders and newbies alike to share social media's best practices while at the same time going beyond the technology to create face to face connections. It all began with Social Media Day Tulsa 2010 at Fat Guys Burger Bar in the historic Greenwood district. Social Media Tulsa holds monthly Meetups, Tweetups, and participates in several community projects. To learn more visit SocialMediaTulsa.org
About Party Aficionado
Party Aficionado, LLC is a leading social marketing firm specializing in event marketing, social media marketing, internet marketing, and PR. To learn more visit Partyaficionado.com.
###