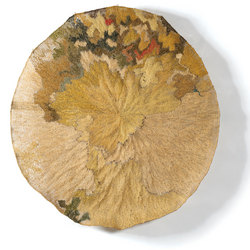 the finest work of tomorrow...the new blood
Wilton, CT (Vocus) October 21, 2010
Fiber art will be on exhibit from the Art Institute to the Navy Pier in Chicago this November, beginning on Wednesday, November 3, 2010.
At the Art Institute of Chicago, Contemporary Fiber Art: A Selection from the Permanent Collection, will open on Wednesday, November 3, 2010. The exhibition will feature 61 works and will be the inaugural exhibition of the reopened Elizabeth F. Cheney and Agnes Allerton Textile Galleries. It will explore how fiber art has developed as a contemporary art form. During the 1950s and 1960s, rigid distinctions among art mediums and "high" and "low" art, began to erode, as more and more artists began to incorporate fibrous materials and textile techniques in their works. This exhibition charts this exciting trajectory with work by 52 artists including Peter Collingwood, Lissy Funk, Helena Hernmarck, Ethel Stein and Jolanta Owidzka and artists with strong local ties such as Lenore Tawney and Claire Zeisler, who studied sculptor Alexander Archipenko in Chicago.
Also opening on November 3, 2010, at the Art Institute, will be June Wayne's Narrative Tapestries: Tidal Waves, DNA, and the Cosmos. A pioneer in the revival of lithography during the early 1960s and a relentless explorer of the possibilities of paint, June Wayne has been a major figure in the Los Angeles art scene for decades. This exhibit will bring together 11 dynamic tapestries created between 1971 and 1974 related to Wayne's innovative graphic designs.Magisterial in their conception and extraordinary in their refined beauty and execution, these works showcase not only Wayne's unique vision but the rich possibilities of uniting contemporary ideas and a centuries-old medium.
Opening On November 4th, at the Navy Pier for four days only is a special exhibit, part of SOFA CHICAGO, Advocates for Art: Polish and Czech Fiber Artists from the Anne and Jacques Baruch Collection in Booth S 114. This special exhibit features 21 works by more than a dozen of the Eastern European textile artists introduced in Chicago in the 1970s by legendary dealers Anne and Jacques Baruch. The couple traveled regularly to Central and Eastern Europe to bring art back from behind the Iron Curtain. Their goal was to broaden exposure to art that Jacques Baruch once described as "the finest work of tomorrow...the new blood," including work by Magdalena Abakanowicz and Zofia Butrymowicz. The exhibition is cosponsored by the Baruch Foundation, browngrotta arts of Wilton, Connecticut and The Art Fair Company, sponsors of SOFA Chicago. The Opening Preview is from 7 p.m. to 9 p.m. on November 4th. SOFA opens at 11 on Friday the 5th and Saturday the 6th and at 12 on Sunday, November 7th. It closes on the 7th at 6.p.m. For more information visit: http://www.sofaexpo.com/
On November 5th at 2 p.m., SOFA CHICAGO will host a related Panel Discussion in Room 324 at the Navy Pier featuring Christa C. Mayer Thurman, Emerita, the Art Institute of Chicago, chair and curator of the Department of Textiles (1967 – 2009). Ms. Thurman founded the Textile Society of the Art Institute of Chicago and initiated the 20th Century textile collection at the Art Institute. She was acquainted with the Baruchs for many years; several textiles that the couple brought from behind the Iron Curtain entered the Art Institute's collection. After the discussion, at Booth S 114, Ms. Thurman will sign copies of the catalog that accompanies the special exhibit, for which she wrote the introductory essay.
Also at SOFA CHICAGO from November 4th through November 7th in Booth 120, will be a varied display of contemporary art textiles from Japan, Europe the US and the UK, presented by browngrotta arts, which has focused on the promotion of fiber art for more than 22 years. On Saturday the 6th, at 2 p,m, Danish Artist Jane Balsgaard, will speak at browngrotta arts booth about her airy boat sculptures of twigs and handmade plant paper. From 3 p.m. to 4 p.m. on Saturday the 6th, Colorado artist Jennifer Falck Linssen will talk about her Fire & Emotion series of katagami-style hand-carved paper "stencils," which reflects the form and shape of human emotions and interactions. For more information, visit http://browngrotta.com/Pages/calendar.php.
# # #