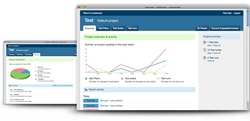 The strength of a SME is its streamlined and adaptable, that ethos was at the center of my design for TestLodge
(PRWEB) January 5, 2011
Scott Sherwood, worked each weekend and in the evenings for six months designing TestLodge - test case management tool, while working full-time each day as a web developer. A soft launch helped him expose the new software to a small group of users who then fed back on what they liked, as well as what they didn't, providing him with a list of features or additions they would like to see. Those suggestions then fed into the ongoing design of the product.
TestLodge allows an entire team to manage their test plans, input their requirements, test cases and test runs all in one place. At the end of a project it provides an evaluation report, helping to measure success and failure.
Scott identified a gap in the market with other testing tools, many of which were designed for larger organizations and projects but were still adopted by freelancers and small businesses. He realized designing a testing kit that better reflected how an SME operates might prove popular.
"The bloat", says Scott, "meant managing the testing kit was actually a project in itself. I thought about what an SME with a small team, or an individual, would need. It has to be software that can be adapted easily and has a simple interface. The strength of a SME is its streamlined and adaptable, that ethos was at the center of my design for TestLodge".
TestLodge, with its back to basics approach and easy to understand software interface proved a hit with a test case of users when Scott first soft-launched it earlier this year. "The immediate response was incredibly positive. When you've worked in your free time and invested £300 in a new product, sometimes you get too close to it, but the feedback was great. Users then began making suggestions, providing examples of how they run their test cases and evaluation tools they'd like to have. Gradually, that became incorporated into the design and that approach will continue in the future".
Video demonstration: http://www.testlodge.com/tour/overview_video
###