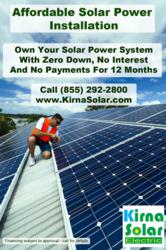 Terms available to qualified buyers include Zero down, No Payments and No Interest for 12 Months. Serious buyers quickly see the benefits of solar ownership through our financing rather than though long-term PPA contracts
San Jose, CA (PRWEB) March 28, 2013
Kirna Solar Electric, Inc. today announced the availability of extensive financing options that enable affordable Solar Power installation for thousands of San Jose residents. These flexible payment options provide viable alternatives to the "solar leases" offered by national chains.
Traditionally, national solar installation chains have offered attractive-sounding solar lease agreements, or PPA (Power Purchase Agreements), where the solar installation would be provided for no up-front cost. However, the customer is required to purchase the electricity produced by the solar panels from the installer – effectively turning the installation company into a power utility, from which the customer must buy their power.
Now, customers of Kirna Solar Electric have the option to fully own their solar electric system, including the power generated from their solar panels, and are not forced into a long term power purchase agreement with their provider. "We are pleased to offer our customers these exciting new purchase options that provide a path to Solar Panel ownership for thousands of Bay Area residents." said Jay Kailey, Owner of Kirna Solar Electric. "Terms available to qualified buyers include Zero down, No Payments and No Interest for 12 Months. Serious buyers quickly see the benefits of solar ownership through our financing rather than though long-term PPA contracts".
In addition to residential and commercial solar panel installation, Kirna Solar Electric is also able to offer its commercial customers a range of LED lighting retrofit options that can further reduce operating and maintenance expenses by more that 70%. Areas that commercial customers can realize savings through the use of efficient LED lighting include area lighting, forecourt lighting and in-store installations.
For more details of how Kirna Solar Electric can bring affordable Solar Power to your home or business, call Toll Free: (855) 292-2800 or (408) 223-2800, email info(at)kirnasolar(dot)com or visit http://www.kirnasolar.com.
About Kirna Solar Electric: As a full service Solar Power Installer in the San Jose and greater San Francisco Bay Area, Kirna Solar Electric provides its customers with end-to-end solar installation, including site surveys, energy assessments, permit assistance, solar panel installation, assistance in filing for federal and state tax incentives, and system financing for qualified buyers. Kirna Solar Electric is a licensed electrical contractor in the State of California. Financing subject to approval, conditions apply, call for details.