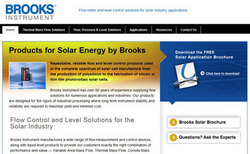 Hatfield, PA (Vocus) August 11, 2010
Brooks Instrument, a world-leading provider of advanced flow measurement, pressure and level solutions, has launched a new website dedicated to flow control and level applications in the solar marketplace (http://www.BrooksSolarSolutions.com). The website is a resource for manufacturers in the photovoltaics/solar industry to learn more about thermal mass flow, pressure and vacuum solutions specific to their application.
The resource center provides application notes on physical and chemical vapor deposition, transparent conducting oxides, polysilicon and crystal pulling, and spray coatings. It also gives visitors technical information on how flow control, pressure and level devices can help achieve process quality during photovoltaics manufacturing.
Brooks Instrument has more than 60 years of experience supplying flow solutions for numerous applications and industries. Its products are designed for the rigors of industrial processing where long-term instrument stability and reliability are required to maximize yield and minimize cost.
About Brooks Instrument
Brooks Instrument, LLC, based in Pennsylvania, is a company of highly trained specialists whose goal is to provide flow solutions that exceed customer expectations. The Company has a proven history of innovation including the first miniaturized Coriolis mass flow controller (Quantim), the first watertight and explosion proof thermal mass flow controller (Mf Series), the first thermal mass flow controller with Foundation Fieldbus (SLA Series), and the first variable area meter with Foundation Fieldbus (MT3809 & MT3750). Today, Brooks Instrument's portfolio includes glass and metal tube variable area meters (rotameters), thermal mass flow controllers and meters, Coriolis mass flow controllers, meters and transmitters, pressure control products, magnetic level instruments, and a variety of flow accessories. The Company also owns Key Instruments which offers precision machined acrylic flow meters, molded plastic flow meters, glass tube flow meters, electronic flow meters, and flow control valves. Brooks Instrument has manufacturing locations, sales, and service offices in the Americas, Europe, and Asia. For more information on flow solutions, products, or sales contacts please visit http://www.BrooksInstrument.com.
###