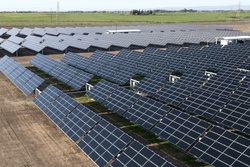 Early indications show the output per DC kW of First Solar thin-film is about 10% higher than that of crystalline
Manteca, CA (Vocus) April 6, 2009
The solar energy experts at Denver-based Conergy Americas and officials at California's South San Joaquin Irrigation District (SSJID) have installed what is believed to be the world's first single-axis solar tracking system featuring thin-film photovoltaic cells. The 419-kilowatt system went live in late March. It is the second phase of a 1.6 MW solar energy solution that will save the irrigation district nearly $400,000 a year in utility costs, allow it to reap millions of dollars in state cash incentives and stabilize customer costs in the midst of a state-wide water crisis.
The project -- known as the Robert O. Schulz Solar Farm -- will also provide a unique cost-benefit analysis on how two distinct solar energy solutions -- crystalline panels and thin-film -- perform under a range of climatic conditions.
SSJID is located in Manteca, between San Francisco and Yosemite National Park. While many may not know its location today, it's about to put the practice of thin-film solutions on a single axis tracker on the proverbial PV map. SSJID provides irrigation water for 55,000 acres in the surrounding area. The Solar Farm will handle nearly all the power needs of the nearby Nick C. DeGroot Water Treatment Plant, which processes 40 million gallons of water per day for 155,000 residents and businesses in the cities of Manteca, Tracy, Escalon and Lathrop.
"The application of thin-film on a solar tracking system as a way to optimize energy output in perennially-dusty or overcast areas is generating a great deal of excitement not only among those in areas with conditions similar to the Central Valley, but among economic policymakers and environmental stewards in Washington, D.C.," said SSJID General Manager Jeff Shields. "We're eager to continue our work with Conergy to bring this solution -- and the important data it's generating in our cost-benefit analysis -- to light," he added.
The trend in enterprise solar emphasizing the economic benefits of photovoltaic technology is particularly important for water authorities like SSJID. California is in the third consecutive year of a drought that has compelled California Governor Arnold Schwarzenegger to declare a state of water emergency, which can mean water rationing and rate hikes.
"The project's main goal was to stabilize electrical costs, which can spike substantially in summer months given local time of use (TOU) metering;" said SSJID Utility Systems Director Don Battles. In addition to the project's $400,000 annual electric bill savings, the solar energy systems provide the district with a hedge against rising utility costs. And, he adds, both projects are hooked into the state's electrical grid, which means the district will be able to sell its surplus, peak-time energy (another precious commodity) back to the local utility.
SSJID is also receiving $6 million in cash incentives from the California Solar Initiative program, designed to stimulate solar markets by providing cash incentives of up to 30% of system costs for businesses, public agencies and home owners who go solar.
Providing the SSJID with additional ROSI (Return On Solar Investment) are the valuable side-by-side performance metrics the systems are providing. Phase 1 features 6,720 Conergy 175-watt crystalline modules mounted on a single axis solar tracking system. Tracking systems can optimize peak-time output by as much as 15% over similarly-sized fixed-mount systems. They do this by incrementally adjusting panel angles to follow the trajectory of the sun. This project optimizes its solar tracking capabilities using software whose origins are based in military tracking technologies. It took a mere four months to install.
According to Conergy's Western U.S. Project Director David Vincent, market-tested First Solar thin-film modules were selected for the Phase 2 tracking solution because they perform at a lower cost-per-watt than traditional crystalline. "Thin-film is a much more cost-effective way to generate power -- and it can outperform monocrystalline in areas prone to hazy, overcast conditions -- or in industries that generate dust or high degrees of air particulates," said Vincent. "Early indications show the output per DC kW of First Solar thin-film is about 10% higher than that of crystalline," he added. Installation time was three months.
To help SSJID monitor system output, Conergy installed equipment on the inverters that sends power generation information to monitoring and reporting company Fat Spaniel Technologies. This allows Battles and the SSJID team to log onto the Web and gauge system performance from their business offices -- nearly 22 miles west of the actual solar arrays. A bonus is that through the Fat Spaniel Web site, they're also able to compare the 1 MW, Phase 1 SSJID tracking system with several systems, among them a 1 MW fixed-axis roof-mount system on a fruit-packing house in nearby Hanford, California -- a system that Conergy also installed.
The availability of data has generated a friendly competition. "We can look at our production and their production on any given day and see how we're tracking," Battles says. "We're generally 15 to 18 percent ahead of them. And in reality, Hanford probably has better sun than we do."
The Conergy- SSJID team's innovative approach to renewable energy and the Robert O. Schulz Solar Farm case study are providing illuminating new data that will open the floodgates of solar opportunity for water authorities and agri-businesses across the U.S.
"Those being served by the forward-thinking SSJID team are enjoying the benefits of one of the most advanced PV projects in the world," said Vincent. "The South San Joaquin Irrigation District's desire to find new ways to process and deliver their water as cost-effectively as possible is a boon for its customers -- and a bellwether for water authorities everywhere, particularly in these economic times."
About CONERGY:
Conergy designs, manufactures, installs and finances solar photovoltaic solutions for major commercial sectors, public agencies, businesses and homeowners through two distinct channels. Conergy's Projects Group focuses on custom solutions for large-scale, energy-intensive enterprises; Conergy's Distribution Group serves a national network of installers, developers and dealers in the grid-tied and off-grid residential realm, while also addressing the needs of small commercial markets. With ten years' market prowess, Conergy has successfully deployed projects totaling over 1 Gigawatt of renewable energy capacity around the world. With operations in 15 countries over 4 continents, Conergy is driving today's clean energy economy via the design, production, installation or financing of close to 1 in 10 of the world's solar energy systems. Learn more at http://www.conergy.us.
About SSJID:
In 1909, the South San Joaquin Irrigation District (SSJID) was established to provide a reliable and economical source of irrigation water for approximately 72,000 acres of agriculture in, and surrounding, Escalon, Ripon and Manteca. SSJID's historic water rights allow for several hydroelectric power plants on a series of dams and reservoirs on the Stanislaus River. SSJID and Oakdale Irrigation District completed the original Melones Reservoir in 1926, and have co-owned the Tri-Dam Project, consisting of Donnells, Beardsley and Tulloch reservoirs and powerhouses, since 1957. In 2005, as unprecedented urban growth replaced agricultural land, the district expanded into providing domestic water service to Tracy, Lathrop, Manteca and other parts of San Joaquin County with its state-of-the-art membrane filtration water treatment plant. For several years, the district has been moving towards providing retail electric service as well, aiming to cut electricity bills of those in its service territory by a minimum of 15%.
###