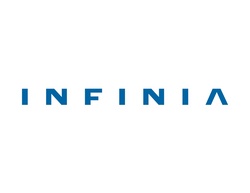 We are truly excited about the talent we are adding to the Infinia team with the additions of Patrick, Gaby and Howard
Kennewick, WA (PRWEB) October 10, 2008
Infinia Corporation today announced the expansion of its senior management team to include three accomplished executives. Patrick Rooney has joined as Chief Accounting Officer, Gabriel (Gaby) Tashjian has joined as Vice President of Commercial Operations and Managing Director, Asia, Africa and the Middle East, and Howard Monk has joined as Vice President of Operations.
Mr. Rooney will oversee financial reporting and information technology, and will take responsibility for further developing the company's internal controls, processes and procedures. Mr. Tashjian will be responsible for organizing and directing Infinia's commercial efforts broadly and for developing business in Asia, Africa and the Middle East. Mr. Monk will shoulder responsibility for developing, scaling and managing Infinia's global supply chain, procurement and manufacturing operations.
"We are truly excited about the talent we are adding to the Infinia team with the additions of Patrick, Gaby and Howard," said J.D. Sitton, President and CEO of Infinia. "During his eight years as Audit Partner at Deloitte, Patrick worked with a wide variety of companies, including early-stage, venture-backed organizations as well as Fortune 500 companies. His deep understanding of global operations in the manufacturing, construction and technology industries, together with his direct experience helping public companies achieve and maintain compliance with the internal control provisions of Sarbanes-Oxley, make him a valuable asset as our business matures and becomes more complex."
Sitton continued: "Gaby enjoyed a very fast-moving career at General Electric where he honed his international business skills. His proven team building and leadership skills, coupled with his entrepreneurial experience and his business acumen, will help to ensure that we successfully address world-wide demand for clean, affordable solar energy solutions."
"Howard worked in senior positions with MTU-Detroit Diesel, Webasto and General Motors. He is a proven supply chain, procurement and manufacturing operations leader. His extensive experience working with automotive-scale manufacturers and suppliers, plus his ability to develop and manage long-term manufacturing relationships, will be important to Infinia's effort to ramp production capacity on a global scale. Each of these gentlemen is truly top-of-the-class in his field, and we are privileged to have them join us," concluded Sitton.
More Information
Patrick Rooney, Chief Accounting Officer
Mr. Rooney comes to Infinia after almost 20 years with Deloitte. He most recently served as the partner in charge of Professional Practice for Deloitte's Cleveland, Buffalo and Rochester offices. In this role Mr. Rooney was the Senior Partner responsible for technical accounting and auditing consultations. He also served as Audit Partner for a large global provider of design, procurement, engineering and construction services to the coal-fired power generation industry, as well as Audit Partner for a multi-billion dollar global manufacturing company. Mr. Rooney graduated Summa Cum Laude from Duquesne University with a Bachelor of Science in Business Administration.
Gabriel Tashjian, Vice President of Commercial Operations and Managing Director, Asia, Africa and the Middle East
Mr. Tashjian joins Infinia after serving as Co-Founder and President of Waterhouse Properties, a real estate development company, and Co-Founder and Vice President of Prestige Auto Group, an automotive franchise engaged in marketing, selling and servicing automobiles. He has co-founded and established four companies, including an Internet-based software solutions and consulting company. Mr. Tashjian also served as Senior Vice President of Sales at Capstone Turbine Company. Additionally, he served in domestic and international management and business development roles for GE Power Systems. Mr. Tashjian speaks four languages and graduated with a Bachelor of Science in Electrical Engineering from the University of Southern California.
Howard Monk, Vice President of Operations
Mr. Monk most recently served as Director of Purchasing/Supply Chain Management at MTU-Detroit Diesel, a worldwide manufacturer of off-highway engines, where he led material planning and logistical activities in support of MTU's global growth strategy. He was responsible for implementing global cost saving strategies and optimizing complex supply chains, as well as leading and supporting various global procurement, supply chain and operations activities. Prior to MTU, Mr. Monk was Director of Corporate Purchasing/Quality at Webasto Roof Systems, Inc. (WRSI) where he led WRSI's North American growth in implementation of global procurement and quality strategies. He also served in a variety of roles at General Motors, including director of global quality launch and supplier readiness. Mr. Monk holds a Masters in Business Administration from the University of Detroit in addition to a Bachelor of Science in Business Administration from Wayne State University.
About Infinia Corporation
Infinia is a solar technology company preparing to commercialize its Infinia Solar System, a solar power generation product that converts concentrated solar energy into electricity. The Infinia Solar System couples Infinia's proven free-piston Stirling engine with a dish-style solar concentrator to produce 3kW of grid-quality AC power. Since 1985, Infinia has been delivering super-high reliability, zero-maintenance, free-piston Stirling engines and power systems to commercial companies and government agencies. Infinia is privately held with significant backing from GLG Partners, Wexford Capital, Vulcan Capital, Khosla Ventures, Idealab, Equus and Power Play Energy. Infinia Corporation is headquartered in Kennewick, WA, with offices in Albuquerque, Bethesda, Los Angeles, Madrid, New Delhi and Tokyo.
Additional information may be obtained at http://www.infiniacorp.com.
###