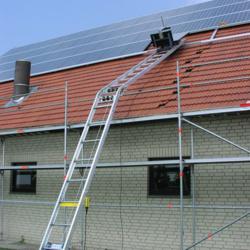 With a total capacity of 550 lbs. and maximum lifting height of 103 ft., SolarLift outperforms its competitors.
Houston, TX (PRWEB) October 02, 2012
GEDA, the leading manufacturer of rack and pinion lifting hoist and elevator solutions, is introducing an innovative new product, SolarLift, for the solar power industry.
SolarLift is the first lifting device designed exclusively to safely lift sensitive photovoltaic and solar panels to rooftops for installation and maintenance. Its innovative design and construction make it an ideal lifting solution for residential, commercial and industrial solar panel installation professionals.
Leveraging GEDA's expertise in specialty lifting applications and ladder lift technology, SolarLift utilizes a custom carrier that protects sensitive photovoltaic and solar panels during lifting and allows for horizontal movement on the rooftop to provide installers easy access to the panel in their work area. SolarLift's Angle-Track Section Ladder combines GEDA's advanced ladder lift technology with flexible ladder pitch, allowing for secure positioning of the lift. With a total capacity of 550 lbs. and maximum lifting height of 103 ft., SolarLift outperforms its competitors. Its rugged construction, high capacity, and fast, safe assembly ensure reliable lifting for photovoltaic panels for residential and large industrial applications.
SolarLift is unique in the industry, offering a lifting solution that meets the specific requirements of the growing solar power industry. Its flexible design and high quality construction meet the standards that the industry has come to expect from GEDA and continues the innovation and superior product quality that GEDA has built its reputation on.
About GEDA
For over 80 years, GEDA has been a leading manufacturer of innovative, superior-quality vertical transportation equipment. GEDA has earned a worldwide reputation for manufacturing high quality, rugged rack and pinion hoists and elevators that are among the safest and most reliable in the industry. Headquartered in Germany, GEDA's product line includes material and personnel hoists and elevators of all capacities, from small rope hoists to large construction elevators. All GEDA rack and pinion lifts and hoists can be certified to meet ANSI A17.1 and EN-81. GEDA is also DIN EN ISO 9001:2008 compliant and is a proud member of the German Engineering Federation (VDMA).
GEDA USA Elevator and Material Lift Company is the US subsidiary of GEDA. Our experienced team of management professionals, engineers, technicians and quality control specialists are experts in the industry and committed to the highest level of client satisfaction.
###