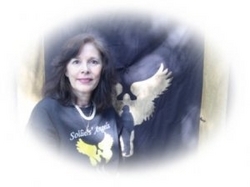 We are indebted to you incredibly for your donation of those fantastic appliances. Your generosity is truly humbling
New York, NY (PRWEB) December 16, 2008
America's Favorite Mom played Santa for a Day in New York City, using the prizes she won to bring an early Christmas to military personnel and their families. Patti Patton-Bader, named America's Favorite Mom last Mother's Day, received the remainder of her prizes in New York last week, which she immediately donated in support of her heroes.
Such generosity is typical of Ms. Bader, who is president of Soldiers' Angels, a military support nonprofit she founded soon after her soldier son was deployed to Iraq in 2003. Five years later, it is now a volunteer-based organization operating over 30 different teams and projects in support of America's military, veterans, and military families around the world.
"Soldiers' Angels is proud to acknowledge the continued generosity of its founder, Patti Patton Bader, through her donation of the proceeds and prizes she received from the America's Favorite Mom contest," said Soldiers' Angels Treasurer Mark Concialdi.
Redbook magazine interviewed Ms. Bader in New York City at a private lunch with editor Stacy Morrison before she received her final prize of a shopping spree. At Ms. Bader's direction, the shopping spree was spent buying Christmas gifts for children of wounded soldiers living in Fisher Houses while their parents recover at nearby military hospitals.
The cash grand prize was distributed as a lump sum of $150,000, which Ms. Bader donated to Soldiers' Angels this summer. She has also donated the set of household appliances she received to nonprofit Homes for Our Troops, where they will be added to a home to be constructed for a quadriplegic wounded soldier. In a recent email, the soldier described his reaction. "We are indebted to you incredibly for your donation of those fantastic appliances. Your generosity is truly humbling," he wrote.
But Ms. Bader herself is humble about the experience. "The best part of winning was being able to give the prizes to America's heroes--our soldiers and their families. There are so many wonderful mothers in this country, and I was just glad to have the opportunity to shine the light on our military and the importance of supporting them in this time of war. I am so grateful to Stuart and Linda Resnick of Teleflora for developing the America's Favorite Mom contest," she said.
The individualized, diamond-encrusted necklace declaring Ms. Bader "America's Favorite Mom" was donated to the Soldiers' Angels Museum, which documents the development of Soldiers' Angels and the responses of the Soldiers, Sailors, Airmen, Marines and Coast Guardsmen it supports.
Ms. Bader was named America's Favorite Mom in a primetime NBC television show on Mother's Day 2008, sponsored by Teleflora and hosted by Donny and Marie Osmond.
About Soldiers' Angels:
Established in 2003, Soldiers' Angels is a volunteer-based 501(c)(3) non-profit providing aid and comfort to the men and women of the United States Army, Marines, Navy, Air Force and Coast Guard, as well as veterans and military families. For more information, see http://www.soldiersangels.org or call 626-529-5114. Tax ID# 20-0583415
###