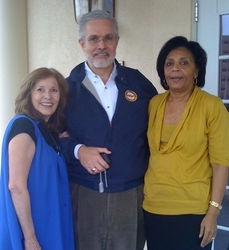 Wounded Veterans, they've got heart...they need wings.
Pasadena, CA (PRWEB) February 4, 2009
Soldiers' Angels founder Patti Patton-Bader spent a recent day at the Fisher House on the Brooke Army Medical Center (BAMC) campus with Walt Fricke of Veterans Airlift Command. Fricke was learning more about the needs of the wounded warriors he assists through by flying them around the country so that they can stay connected to family throughout their recoveries. Patton-Bader took the opportunity to distribute laptops for wounded given through the Soldiers' Angels Valour-IT project. They both commented on the positive spirit and great work they saw at the Fisher House, which hosts the families of wounded warriors while their hero recovers.
Veterans Airlift Command (VAC) was founded in Minnesota in 2006 by Fricke, a wounded veteran himself. "I spent six months in a hospital 700 miles from my hometown recovering from combat injuries sustained while flying a helicopter in Vietnam. My healing began in earnest when my family was able to gather the resources to make a trip to visit me," he says when asked about his inspiration for the organization.
VAC's mission to bring wounded and their family members together throughout the recovery period, and to allow recovering service members to travel in comfort and dignity instead of facing the gauntlet they encounter on commercial air travel while dealing with physical challenges. This special service also reduces the burden on non-profits who help service members and families with emergency travel costs, often requiring organizations to pay the steep costs of last-minute plane tickets.
Fricke had originally planned to just set up flights of 300 miles or less, but VAC quickly grew to cover flights up to 2,000--almost the entire country--and hundreds of pilots and plane owners now donate their time, equipment and gasoline. VAC has also expanded beyond ferrying between home and hospital; they recently assisted Operation Comfort with transportation for a ski trip for wounded heroes.
VAC's motto is "Wounded Veterans, they've got heart...they need wings." Soldiers' Angels applauds and salutes Veterans' Airlift Command (VAC) for giving America's wounded heroes wings, and is proud to work alongside them in their mission.
For more information about VAC, see http://www.veteransairlift.org
About Soldiers' Angels: Established in 2003, Soldiers' Angels is a volunteer-based 501(c)(3) non-profit providing aid and comfort to the men and women of the United States Army, Marines, Navy, Air Force and Coast Guard, as well as veterans and military families. For more information, see http://www.soldiersangels.org or call 626-529-5114. Tax ID# 20-0583415
###