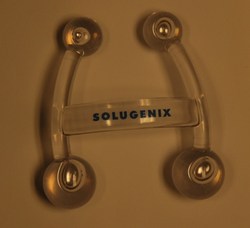 We are now providing a platform for customers, partners and prospects to engage with Solugenix, share feedback and receive news updates instantaneously
Irvine, CA (PRWEB) February 11, 2011
Solugenix Corporation announced today it has launched a new website design, built to provide easier access to the company's diverse set of technology solutions as well as to provide a platform for current and future customers, partners and prospects to engage with the Solugenix team on various subjects – from providing feedback to receiving more timely information on events, quotes or status of requests.
The new design moves away from the static, "newspaper" format to a dynamic, customer-driven format with simplified navigation, easier access to educational content and overall improved user experience. The new site also prominently highlights the company's primary focus on Dynamics AX ERP, Technology Solutions and IT Staffing. Each focus area now features a lot more educational content that is easily accessible from every page, making it easier for clients and prospective customers to make the most informed decisions about their options.
The new website also features a real-time social media integration platform providing users with immediate, up-to-date news from Solugenix and opportunity to follow the full spectrum of company activities including presentations, videos and images from events and tradeshows.
As part of the new website launch, Solugenix is also launching a prize giveaway for the first 50 new subscribers to the company's newsletter which offers IT tips and tricks for keeping any business running smoothly. To receive one of the 50 custom-made massagers from the giveaway, visit the new company website and subscribe.
About Solugenix: Solugenix is a privately-held company specializing in Microsoft Dynamics AX ERP solutions, IT Support solutions and Recruitment & IT Staffing services. The company provides connected ERP solutions and services from concept to customer for mid-market process manufacturing companies. The Solugenix Dynamics professional services team focuses on quick, efficient implementation, enhancement and support. Solugenix has offices in the U.S. (Irvine, CA, Phoenix, AZ, Chicago, IL, Atlanta, GA), Canada (Toronto) and India (Hyderabad and Bangalore). For more information, visit http://www.solugenix.com or call 866-749-7658. Twitter: @solugenix.
###