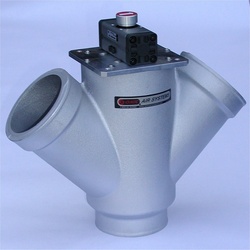 BREA, Calif. (PRWEB) July 7, 2008
Blowers no longer must be shut off or the VFD (variable frequency drive) turned down every time a line stops, when there is no product present or when an operator needs access to a restricted area where a high velocity air knife could pose a hazard. The Sonic Air Y-Vertertm eliminates the expense of VFD motor controllers and their associated slow ramp-up and ramp-down speed. This new air diverter design delivers instant response with a low flow pneumatic solenoid switch while using a blower powered air knife system thereby reducing energy demand by up to 75% versus compressed air. Any line signal or safety inter-lock can trigger the Sonic Air Y-Vertertm.
The Sonic Air Y-Vertertm is a compact "Y" shape with the cast aluminum housing available in 3" and 4" diameter air connection inlet and outlets. Unlike any other type of air diverter design, the Sonic Air Y-Vertertm is the smallest, lightest weight, contains the fewest components, has the lowest air pressure loss and requires almost no torque to actuate it. The design ensures very low pressure loss, has air pressure ratings up to 10 psig, vacuums to 10" Hg and continuous air temperatures up to 220˚F.
While blowers turning on and off can result in up to a 20 second delay, the Sonic Air Y-Vertertm responds instantaneously and as frequently as 20 cycles per minute. Air flow can either be totally isolated or fully restored in as little as 0.5 seconds depending on the location of the Sonic Air Y-Vertertm to the use point. Although the blower continues to run in the by-pass mode, the optional air restrictor with silencer allows the blower to function at only 25% of the running load with a noise level of less than 80 dbA.
For more information about the Sonic Air Y-Vertertm, log onto http://www.sonicairsystems.com, email asksonic@sonicairsystems.com or call 1-714-255-0124 (1-714-473-3694 after hours).
MULTIMEDIA GALLERY http://www.businesswire.com/cgi-bin/mmg.cgi?eid=5725809