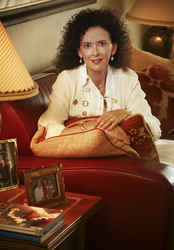 This is no ordinary relaxation CD. A powerful series of songs and words channeled from Sirius, soothe and comfort your mind and your body. It is a blissful experience.
Los Angeles, CA (PRWEB) March 16, 2010
The rich, velvety sound of Lia Scallon's relaxing voice is the constant element throughout her new compilation album, which offers complete works from each of her seven CDs. The Sounds of Sirius Compilation: Songs to Soothe the Soul, was created as an ideal introduction to Scallon's vast range of healing meditations with music. The compilation releases globally on March 16, 2010, in both CD and downloadable formats.
The complete collection of albums is newly available in the U.S., following eight years of distribution in her current homeland of Australia. Only New Age Music's Suzanne Doucet consults on the line's U.S. market debut. Scallon will visit the U.S. to support the launch with a crystal skull energy activation ceremony at 7 p.m. on Thursday April 8th at the Rose Temple in Venice, 305 Rose Avenue, Venice, CA. Tickets are $25 at the door.
The Sounds of Sirius take the form of channeled, sung vocals in the sacred language of Sirius, interwoven with softly, spoken word meditations, which flow in and out of simple melodies. Asked how she receives the songs, Scallon replies that she often awakes with the feeling that a song and message is "coming through" and then works quickly to set up a recording session to channel the message in its purist form.
Scallon, a former actress who has shared the stage and screen with actors like Liam Neeson, Glenn Close and Cate Blanchett, was called to open her private healing practice in 2000, after a life-long history of personal spiritual experiences. All seven Sounds of Sirius CD recordings have evolved directly from the Irish-born Scallon's Light work known as Healing with the Sounds of Sirius. Each recording is a healing modality in its own right, available for people to use in the sanctuary of their own homes.
Upon review of one of her Diamond Light Meditations, Living Now Magazine wrote "This is no ordinary relaxation CD. A powerful series of songs and words channeled from Sirius, soothe and comfort your mind and your body. It is a blissful experience."
According to Scallon, the core purpose and gift of "The Sounds of Sirius" is to reawaken the soul to its true purpose - to stir it into remembrance of its Divinity.
"These sacred harmonics are a Song of Love for humanity at this crucial time in our evolution, Divine assistance to help us flow with the major change in consciousness that is occurring on our planet at this time," she says. "Each CD is a journey of about one hour; a 'healing' that has been channeled through from Spirit in the recording studio in one take. Ideally, one dedicates time to receive the full healing, at least for the first listening. An excellent alternative is to fall asleep to them each night. As the conscious mind is released, relaxation and rejuvenation can take place at a very deep level."
On each of the seven albums represented on the new compilation, Scallon's melodic voice delivers songs, chants and meditations, while the recordings are lightly accented with music and nature sounds. The crystal bowl music of Susie Nelson-Smith of The Crystal Sound Institute forms the backing track on the Starsong and Song of the Earth recordings. Starsong includes additional sound effects of the song of the humped-backed whale, birdsong and water, whilst Song of the Earth features delicate, quartz crystal wind chimes and water effects. These two CDs, Scallon says, can provide profound "Inner Child" therapy when used together. Song of the Earth heals memories and blockages from conception to 2 years, and Starsong continues healing for the rest of the inner child spectrum.
Equally soothing is Scallon's Breath of Life album, which she says was a gift to dissolve our fear of death, either our own or others. This understanding may be expanded to assist with the "death" of outmoded belief systems that no longer serve us. In particular, its purpose is to aid in dealing with all forms of grief and loss. Nova Magazine has praised Breath of Life, stating, "There is a mood of dignity, majesty and awe evoked by this music that has the ability to dispel fear and anxiety… possibly the most profound of Lia's recordings."
Diamond Light Meditation for Men and Diamond Light Meditation for Women are gender-specific albums offering a very renewing combination of guided meditation and channeling of The Sounds of Sirius. Lia's voice takes listeners on a magical journey into the heart of the Diamond, and whilst in a deeply-relaxed state, the beautiful, healing Sounds of Sirius washes over them for approximately 40 minutes. Exquisite sound effects -- the Carillion crystal bowl, Tibetan and Japanese singing bowls, bells, chimes and cymbals played by the exceptional percussionist David Jones -- form the backdrop for this transformative, meditative, journey.
Scallon notes, "The Diamond Light meditations are truly gifted from Spirit to balance the male/female polarities within. The healings were channeled through separately for the men's and women's albums, and are designed to activate a new Diamond Light energy within us, bringing healing at a cellular level.
The Sounds of Sirius compilation CD also includes healing works for both children and animals, presented in the albums titled The First Little Angels on Earth and Song of Love for the Animals.
Adults and children alike will be swept up in the magical cosmic fable that is The First Little Angels on Earth, with its subtle, yet profound universal messages. They will be entranced, too, by Scallon's stunning, channeled vocals leading their imaginations on an exquisite musical journey that evolves from the storytelling. Insight Magazine called it "Part music, part meditation, part fable and lullaby...like health food for the soul."
In the creation of Song of Love for the Animals, Scallon has produced a profound mystical and musical journey for animal lovers and their pets. Inspired by the many stories of animals responding to her CDs, this album offers soothing music, nature sounds and gently-vocalized ancient songs. Animal lovers everywhere are encouraged to send this song out from their hearts, to embrace, protect and heal every creature in the animal kingdom.
Scallon has engaged a full marketing and distribution team to assist with the U.S. launch of The Sounds of Sirius collection and the new compilation CD. In addition to Only New Age Music's efforts, The B Company handles public relations, while National Music Marketing Services works retail promotion. KDM Promotions, servicing radio, has already garnered both terrestrial and digital airplay across the U.S., Canada and various parts of Europe.
The Sounds of Sirius line is distributed to specialty stores by New Leaf Distributing, and to mainstream retail by CPI Distribution. It is also available directly to consumers in downloadable, on demand, or import CD format at Amazon.com.
For further information regarding Lia Scallon or the Sounds of Sirius, please contact Beth Ann Hilton, The B Company, bethhilton (at) theBcompany.com.
Links:
Website: http://www.soundsofsirius.com
Amazon: http://bit.ly/aGcGGR
Sonicbids EPK: http://www.sonicbids.com/LiaScallon
Reverbnation: http://www.reverbnation.com/LiaScallon
Twitter: http://www.twitter.com/soundsofsirius
###