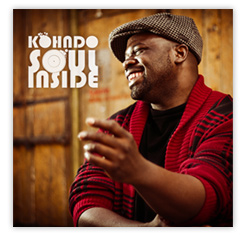 Born from his imagination, Soul Inside reflects Kohndo's roots in soul, jazz and hip hop.
Paris (PRWEB) May 11, 2011
"Soul Inside," the latest studio album from accomplished hip hop artist Kohndo hits shelves worldwide on May 16. Inspired by personal trials and tribulations, "Soul Inside" is a rhythmic musician's tale, reflective of Kohndo's roots in soul, jazz and hip hop music. "Soul Inside" is available for advanced ordering at Fnac and Amazon.com or digitally on iTunes and VirginMega.fr.
Soon-to-be-released, "Soul Inside" has already forged an eager audience both in Kohndo's native France and various other countries around the world. Tracks in both French and English testify to Kohndo's wide-reaching appeal as an artist while a skillful melange of rock, soul and jazz beats behind hip hop poetry round out the soothing yet singular "Soul Inside."
Born from his imagination and produced with the assistance of Nicolas "Nico what?" Liesnard (Hindi Zahra, Asa), Kohndo accomplished his third album "Soul Inside" with the help of numerous guest musicians, including: Ekoué (La Rumeur), Karl the Voice (Push up), Juan Rozoff, Jan Dark, Lisa Spada, Marie M, Rony, Song Williamson, Julien Tekeyan (Féfé), Christophe Panzani (Electro Deluxe, Hocus Pocus), Guillaume Poncelet (Ben l'oncle Soul), Joel Johnson (Fred Wesley live band), Thierry Jean Pierre, Riko Kerridge (Bibi Tanga), Jerom Castry, Yann Massoubre, Thomas Agrinier, Sebastien Artigue, Christophe Jambois, David Santinho, Jerome Fosse, Dj eX Why Ze, Lion Parnasse, Nessia, Westyn, Terem Al, Alaeddin "The Last Genius", Anton Soder and Be2s.
About Kohndo
An original member of the legendary French rap group La Cliqua, Kohndo has been a fixture in French music since the early 1990s. Early success took the artist from Paris to New York and back again, allowing Kohndo to collaborate with some of the industry's biggest names.
Since establishing himself as a solo artist, Kohndo has earned praise and worldwide recognition for his unique style, influenced heavily by the soul and jazz masters. Kohndo's second solo album "Stick to the Ground" was mixed partly in Detroit and quickly developed a cross-Atlantic fan base among hip hop enthusiasts in the United States.
Kohndo further evolved his sound with the creation of the Velvet Club, a live band ensemble of masterful musicians. In great demand, the Velvet Club has performed all over France in both intimate concert settings as well as major music festivals, notably "La Rue au Grand Palais", "Nancy Jazz Pulsation" and "Printemps de Bourges."
To purchase an advanced copy of "Soul Inside," visit Fnac or Amazon.com. Digital versions are available May 16 on iTunes and VirginMega.fr.
For more information, please visit http://www.KohndoMusic.com. Follow Kohndo on Facebook at facebook.com/kohndo.
###