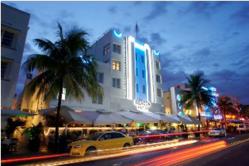 "And we've done much more than make the site look like an elegant piece of art. It's also very simple and intuitive to navigate, and all of the information that our guests want is only a click or two away, says Christopher Regalado, Revenue Manager
Miami Beach, FL (PRWEB) March 27, 2013
The Beacon South Beach Hotel, which is ideally located directly across from the Atlantic and steps away from the dynamic heartbeat of Miami's world famous South Beach, has launched a brand new feature-filled website at http://www.beaconsouthbeach.com.
The Beacon South Beach Hotel's new website now offers:

Dozens of stunning, high resolution panoramic photos of the hotel and the surrounding South Beach scene
Streaming video "virtual tours" that give guests a taste of the world inside and outside the famous art deco-inspired hotel
Enhanced information for the hotel's Deluxe Rooms, Oceanfront Rooms and Suites
A complete list of luxury amenities and extras that guests can look forward to, including complimentary beach chairs, towels, WiFi, and more
A comprehensive "Destination" section that covers all there is to do in South Beach, including nightlife, dining, clubs, Miami cruises, shopping, special events, maps, car rentals, tours, transportation and more
Special offers for couples, guests planning on longer stays, pre and post-Miami cruise accommodations, and more
Information on South Beach spas that will help guests relax and rejuvenate
Integrated real-time, unedited guest reviews via Facebook and TripAdvisor
A secure, simple and easy online room availability and reservation system
"Our new website reflects the style, sizzle and sophistication that guests from around the world expect from the Beacon South Beach Hotel," commented Christopher Regalado, the hotel's Revenue Manager. "And we've done much more than make the site look like an elegant piece of art. It's also very simple and intuitive to navigate, and all of the information that our guests want is only a click or two away. So in other words, our new website is fabulous and functional – not one instead of the other!"
The Beacon South Beach Hotel, which is located at 720 Ocean Drive in Miami's South Beach, is one of the area's most popular and perfectly-located hotels. Crafted in a unique art deco style, the hotel features a range of ultra-modern amenities, and prouds itself in delivering "5-Diamonds Service".
For more information or media inquiries, contact Christopher Regalado, Revenue
Manager, at chris(at)beaconsouthbeach(dot)com or 305.674.8200.
About the Beacon South Beach Hotel
Renowned among chic and stylish Miami Beach hotels, and located in the heart of South Beach, the Beacon South Beach Hotel is a Boutique Art Deco Hotel just steps away from all of the best entertainment that South Beach has to offer: Sun, Sand and Sea. With the clear blue waters of the Atlantic directly across its front doors, the Beacon South Beach Hotel offers the perfect ambiance for a breathtaking beach vacation, featuring world-class amenities, an exquisite restaurant and tantalizing nightlife. Guests enjoy an extraordinary gastronomic experience with live music entertainment that will elevate their spirits with the melodies that fill the air. With an array of beach side water sports, state-of-the-art fitness center and highly advanced business center, Beacon South Beach Hotel is a full-service boutique South Beach Hotel.
Learn more at http://www.beaconsouthbeach.com
###