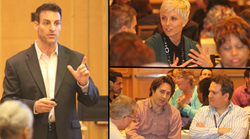 We are going to show our RSFE chapter members and guests 5 main leverage points that can bring in new revenue to their existing business, by thinking strategically, acting proactively, and being a little more creative.
Miami, FL (PRWEB) March 05, 2013
Renegade South Florida Entrepreneurs (RSFE), in partnership with the Miami Chapter of Glazer-Kennedy Insider's Circle (GKIC) - the top direct response marketing group in the United States -, announced that the main topic to be discussed during their next chapter meeting will revolve around 5 key ways to build new income streams within a business. The meeting is free to first-time guests, and will be held on March 13, 2013 in Hollywood, Florida.
Staples recently released the results from its 7th Annual National Small Business Survey and announced that "69 percent [of respondents] wish they could focus all of their attention on their actual business." Those results show that small business owners are often not properly leveraging the potential of their core business.
RSFE Marketing Director Mande White says, "Novice or struggling small business owners tend to look outside of their companies or practices for additional revenue opportunities; or wear too many hats within their existing business. While diversifying is great, straying from their core competency can be detrimental to their success."
Results from a survey from eVoice found that 90 percent of small business owners fill 3 or more roles daily, with 44 percent filling 5 or more. Andrew Cass, Chapter Director of RSFE, believes that leveraging existing knowledge and focusing on the many opportunities within one's business can help entrepreneurs multiply their incomes without requiring additional expertise and considerably minimizing risks.
"We are going to show our RSFE chapter members and guests 5 main leverage points that can bring in new revenue to their existing business, by thinking strategically, acting proactively, and being a little more creative," asserts Cass. "We are all swamped for time, so trying to extend ourselves to an entirely different business can quickly become overwhelming, not to mention the risks involved in entering a realm that we do not master – that might be a breaking point for many."
Cass then shares that one member of the chapter, who runs a successful scanning and shredding service, instead of trying to find another business line for additional revenue, started coaching other business owners and became the go-to speaker in that industry. He also stated that other members have created highly profitable information marketing products, and sold valuable bits of their own expertise, creating a new stream of income, and building themselves up as experts. "We are now going to show our members and guests very simple ways to implement those strategies and create that possibility for themselves."
View an event video introduction from Andrew Cass and register for the upcoming event at the following page: "An Inside Look At The 'Best-Of-The Best' Strategies To Stack (And Compound) Additional Income Streams (Oil Wells) On Top Of Your Core Business". First time guests are invited to attend at no charge, and receive up to $1,000 in free gifts from the #1 Direct Response Marketing group in the US [GKIC].
About Renegade South Florida Entrepreneurs / GKIC Miami Chapter
Hosted by Chapter Director, Andrew J. Cass, along with Marketing Director, Mande White, the monthly Renegade South Florida Entrepreneurs group event features extensive networking opportunities, sharing of marketing guru Dan Kennedy marketing techniques, as well as presentations of "how to" and "what works" success stories. RSFE is the Miami Chapter of the renowned marketing group Glazer-Kennedy Insider's Circle, and where entrepreneurs in the Miami area gather to share ideas with other 'Dan Kennedy inspired' professionals who are achieving breakthroughs in their business.
Andrew Cass and Mande White are both co-authors with Dan Kennedy in The Ultimate Success Secret: South Florida Edition. Andrew is a Direct Sales & Marketing Strategist, 'Dan Kennedy Certified' Business Advisor, author, speaker and owns his own Mobile Marketing company. Mande created her first information product in 2001 and has over 10 years of experience in supporting some of the most successful Internet Marketers in the US, advising on strategy, product offerings, traffic methods and conversion techniques, resulting in over $20 million in additional revenue for her clients. More information about Renegade South Florida Entrepreneurs can be found at http://nobsmiami.com.