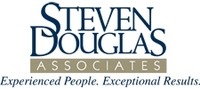 Fort Lauderdale, FL (Vocus) October 28, 2010
Media reports are flooded with the dire news of unemployment rates as it surpasses at the double-digit mark. The truth is that the economic downturn is not as dismal as the media's portrayal – especially if you are an educated professional working in a thriving field.
Steven Sadaka, Chairman and CEO for Steven Douglas Associates, gives his insights to today's job market, "The national unemployment rate is hovering around 10 percent, but there is one interesting fact that is overlooked. If you are 25 years or older with a college degree, the unemployment rate is 4.6 percent, which by most accounts is close to full employment."
Executive recruiters are seeing stronger than expected job growth, which is a welcome sign to the revival of the job market. A promising development in the economic recovery is the addition of mid-level and senior level management positions. Many business sectors are hiring again and executive recruiters are definitely seeing a positive trend in placing qualified candidates. Companies are actively identifying and addressing their needs for strong applicants, which indicates the beginning of a solid hiring environment.
Matt Shore, President of Steven Douglass Associates, is seeing the same results. "Companies are hiring again as we have seen a dramatic increase in demand in our search business. From a macro perspective, we are seeing companies of all sizes growing and investing again, preparing to go public, doing acquisitions, implementing and upgrading systems and lifting hiring freezes. More specifically, we have experienced the greatest demand in the healthcare, technology, and financial services industries."
There are certain industries that are performing better and hiring more positions. The financial sector took a hard hit during the height of the recession, but this new environment of economic recovery has facilitated an intensified focus in accounting and finance job opportunities. Mid-size and large companies are hiring mid-levels manager as well as senior level managers. Companies are looking for candidates in corporate accounting and reporting, financial analysis, internal audit and tax. In fact, many mid-management recruits, who are being offered jobs in the $65,000 to $125,000 range, have the luxury of turning jobs down because of the increased hiring demands.
Wealth management positions are opening up as reports are showing impressive growth in the financial sectors. Financial firms, private banks and brokerage firms are targeting individuals with a high net worth, so job candidates are needed for investment focused careers. Senior level positions, such as Chief Investment Officers, are also in high demand.
Information technology is another booming industry that is responsible for a large share of hiring. Demand for experienced IT professionals is as strong as ever. Professionals with experience in business intelligence and data warehouse are in particularly high demand. Mid-size and large companies want to hire developers, project managers and business analysts. There are also senior level positions available throughout many companies across many industries.
Mid-size and emerging companies are in the most need of human resources professionals. New positions are being created as these smaller companies need HR professionals to handle hiring and operations needs. Many of these companies are hiring HR positions for the first time, so Director and VP of HR positions are widely available. Large companies are not necessarily creating new positions, but there are replacements positions consistently being offered.
# # #