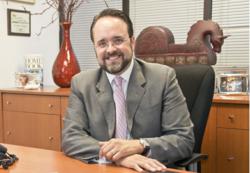 Luxury Condos are in High Demand in South Florida!
Miami, FL (PRWEB) March 27, 2013
The most remarkable sale was a pre-construction unit at the Residences the Miami Beach Edition for a whooping $34M., a pre-construction record at Miami. But also the prices paid in the resale market have been well beyond any mark previously established in this area, when a penthouse at the Setai Condominium in Miami Beach was sold for $27M., up to this time, the largest-ever condo in existing homes sold. Interinvestments Realty's sales team has been very active with the rampant demand for high end properties in this area. Ricardo Montalvan, Interinvestments Realty's 2012 Top Producer, just sold a unit at the St. Regis Resort & Residences at Bal Harbour for $3.5M.
"St. Regis is one of the most beautiful buildings in Bal Harbour, the service and amenities they provide to its residents is comparable to a five-star hotel service," says Montalvan, a 13 years veteran with Interinvestments Realty. "St. Regis's beach is one of the best beaches in the South Florida area, with magnificent views from all units. If you add the spa, the gym, and their concierge services to their fine restaurants, it totally makes it a unique building, and a great place to live.
"Seventy percent of my clients are foreigners from all around the world, but mainly from South and Central America," continues Montalvan. "Their preferences are usually condos or single family homes. Forty percent of which are looking for a vacation home and thirty five percent use the property as an investment. The median price paid is $500K to $600K."
"Most of my clients are referrals from our office, family and previous clients," adds Montalvan. "Seventy percent usually buys cash with marked preference in residences with ocean or water views. As for location, Brickell and Coral Gables have a big jump in sales."
"My clients are from different nationalities," continues Montalvan. "Miami is becoming a Mega city and we're getting buyers with cash from all around the world. Luxury condos are what buyers with cash-on-hand are looking for, and we're getting lots of them."
"I see the South Florida real estate market in the next two to three years with a significant increase in prices, and welcoming visitors from around the world want to get a taste of its great lifestyle, climate and sunshine. The world is discovering Miami, the sun, the beaches and its diverse mix of local residents from all around the world." finished Montalvan.
If you want to subscribe to our free New Home Magazine, receive more information about the current opportunities in our local real estate market, or just become part of our sales team or an active Broker in our International Referral Network, please call us at telephone number that appears in our contact information next to this communication.