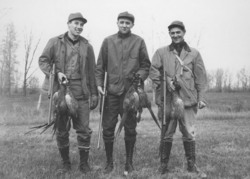 Fall in South Dakota would not be complete without the cackle of a ring-necked pheasant
Pierre, S.D. (Vocus) October 15, 2008
The South Dakota Office of Tourism has launched the South Dakota Pheasantennial, a celebration of 100 years of pheasant hunting in the state. The promotion will include special hunts, community celebrations and the Pheasantennial finale where enthusiasts will compete to win a hunt with television host, Ron Schara.
"Fall in South Dakota would not be complete without the cackle of a ring-necked pheasant," said Governor Mike Rounds. "A milestone of this caliber, or in this case, gauge, deserves a celebration like no other. I invite communities and the hunting industry to get involved and make 2008 the year of the pheasant in South Dakota."
The pheasant was first introduced to South Dakota in 1908 when a group of residents released six Chinese Ring-necked Pheasants into a field north of Redfield. Today, the bird is at the center of state-wide traditions and, 100 years later, continues to stimulate the South Dakota economy.
One Pheasantennial promotion will highlight late season hunting. Throughout the season, hunting enthusiasts can sign up online at http://www.HuntinSD.com for the South Dakota Pheasantennial Giveaway. The South Dakota Office of Tourism will select eight finalists from a pool of online registrations to attend the Pheasantennial Finale on November 15, at Cabela's in Mitchell. Here, they will have the chance to win a late-season pheasant hunt for four hosted by Ron Schara and filmed by Pheasants Forever Television to air on the Outdoor Channel.
Two other finalists will be selected on the day of the event, giving ten individuals the chance to win the hunt of a lifetime. The ten finalists will also win gear from Cabela's, a gas card to cover the cost of travel to the final event, two nights lodging in Mitchell and more.
Fast Facts:

The first pheasant season opened in 1919. 500 hunting licenses were made available.
Pheasants introduced into the United States were from Asia and Europe.
The earliest recorded attempt to introduce pheasants into the United States was in 1733 in New York.
Why does SD have the pheasant population it does today? Habitat.
A cock pheasant's harem can reach large numbers. A harem of as many as 18 hens has been recorded. Average harem size is about 3 hen pheasants.
Pheasant chicks can make short flight by the time they are 2 weeks old.
Links:
Pheasantennial Micro-Site
Cabela's
TravelSD.com
Rules and Regulations - GFP
South Dakota Public Lands
Contacts:
Wanda Goodman, (605) 773-3301, wanda.goodman @ state.sd.us
*Color photos must be credited to the South Dakota Office of Tourism
*Black and white photos must be credited to the State Archives of South Dakota State Historical Society
###