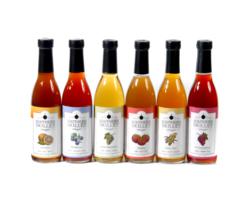 Southern Skillet Vinegar brings a twist to their traditional palette of recipes showcasing Alabama's beloved boutique fruit wine vinegars
Monroeville, Alabama (PRWEB) November 14, 2012
Satsuma harvests will peak along the Gulf Coast in just a few weeks, but the folks at Southern Skillet Vinegar are already featuring the sweet mandarin in recipes from well-loved Denver chef Jamey Fader, who this week celebrated 10 years of creative genius at Lola, the coastal Mexican eatery he opened with Colorado entrepreneur Dave Query.
Not only does Jamey Fader know how to cook, he knows how to behave; something the folks at Southern Skillet Vinegars looked kindly upon when they asked Fader to bring a twist to their traditional palette of recipes showcasing Alabama's beloved boutique fruit wine vinegars. He chose the Satsuma vinegar as a base for a stunning cilantro and basil chimichurri and the familiar White Muscadine vinegar for a lovely white barbecue sauce in original recipes published today on http://www.southernskilletvinegar.com.
Fader's West Coast sensibilities and tattoos can't hide the fact that he's an old soul of a Southern gentleman; he loves to fly fish and spend time in the mountains with his wife and daughter. He prides himself on using authentic ingredients and supporting chefs, growers, and diners in his local community. Born and bred in Maryland, where his family heaped the table with the scallops and seafood he now transforms into modern Latin dishes at Lola, Fader worked his way up in the kitchen to be named Best Chef in Denver two years in a row while at Jax Fish House, which Travel and Leisure magazine recently named one of the Best Seafood Restaurants in the US.
Fader says he's learned as much from colleagues like Matt Selby as he did from the mothers of his Mexican prep cooks. He has cooked at the James Beard House and for private audiences of celebrities and heads of state that he's just too modest to mention. You can check out more of his menu at http://www.loladenver.com or see what he's up to as culinary director of Big Red F restaurant group at http://bigredf.com. Find the Southern Skillet Satsuma and Muscadine vinegars he uses at specialty markets near you and at http://www.amazon.com.
About Southern Skillet Vinegars
Southern Skillet Vinegars are natural, vegan and raw fruit wine vinegars made solely from vine-ripe Gulf Coast fruits, with no artificial flavors, ethanol, or enhancers. For more information, including details about cooking with individual varieties, visit http://www.southernskilletvinegar.com.