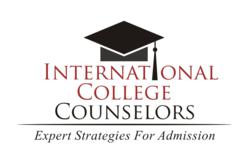 Parents need to be the supportive rock, even if they're suffering from anxiety, too. This time is about the student, it is not about the parent.
Miami, Florida (PRWEB) February 26, 2013
March madness is here. Anxiety is in full swing.
Surprising to many, the craziness has nothing to do with basketball and brackets. Students and parents are thinking of college admissions.
It's around that time acceptance letters are in the mail – or will soon be in the mail.
"Parents need to be the supportive rock, even if they're suffering from anxiety, too. This time is about the student, it is not about the parent," said Mandee Heller Adler, Founder of International College Counselors.
How to Help Your Child Deal with College Admissions Disappointment and Fear
1. Lay the groundwork. Before the acceptance letters come, parents need to let their child know how proud they are of him or her for getting though high school and wanting to go to college. Make sure children know they'll have a great experience no matter where they go.
2. Stay supportive. After the letters arrive, whether a child gets into a first choice college or not, parents need to stay supportive. This is a hard time for a student whether they get into their first choice college or not. For students who get rejected, this may be the first time they're dealing with major disappointment. A parent's job is to stop this from damaging their self-esteem. For students who get in, after the initial euphoria, they'll start thinking about what going to college really means. Leaving home, leaving friends, leaving a comfortable routine, having to find themselves, and make their own way is difficult. Understandably, this may feel overwhelming.
3. Talk it out. If your student is rejected from the first choice college, allow your child to vent their emotions. Talk about it and turn it into a teachable moment. Be sensitive and acknowledge the pain of disappointment. Then help your child, one, accept that he or she didn't get in and, two, move forward with the opportunities that do present themselves.
4. Let your child know that getting into a first pick college is important, but if they don't it's not the end of the world. Let them know you won't love or like them any less and they shouldn't love or like themselves any less either. College is a step on a long road. It's a big step, but college is not the final destination.
5. Add up what really counts. The college admissions officers are looking at numbers. A GPA, an SAT score, and the number of AP courses. Numbers have little to do with your child as a good person. Besides, it's too late now to change the numbers, so beating oneself up isn't going to make anything better.
6. Let your student know a lot of the college admission process was out of his or her control. While the process is fair and thorough, college admissions are subjective. Perhaps even more than most students and parents realize. High scores aren't the only thing that counts. Subjectivity comes into play as admissions officers compare the applications. Maybe the band really needed a new bassoon player.
7. Don't let your child take denial personally. Someone at the college just didn't think your child was the right fit at the time. Your student may actually be better off someplace else and it's just not apparent right now.
8. Celebrate the college acceptance letters your child does get. Getting into any college is something to celebrate.
9. Think to the future. A student can always transfer. Our recommendation is to keep this as a back pocket option and not as a goal. If a student goes to a college with the intent of transferring, he or she won't be able to enjoy the full college experience they can have. Many students find that once they settle in, they're actually very happy.
10. Do something nice. Students are at the end of a long journey. When all the letters are in, celebrate the end of this intense time. Go out for a nice dinner as a family, or give a student a meaningful gift. Make this time positive.
"No matter what happens, after the madness, there will be a calm," said Adler.
ABOUT INTERNATIONAL COLLEGE COUNSELORS:
International College Counselors provides expert college counseling on undergraduate and graduate college admissions, financial aid, tuition, essays, and college applications to domestic and international students.
The college counseling and college coaching services are tailored to address the goals, needs, and dreams of each student. Mandee Heller Adler, founder of International College Counselors, is a graduate of the Wharton School at the University of Pennsylvania and also received an MBA from Harvard Business School. International College Counselors' achievements include being recognized as one of South Florida's Top 100 Small Businesses in 2012.
International College Counselors has offices in New York, New York; White Plains, New York; Boston, Massachusetts; Miami Beach, Florida; Miami, Florida; Hollywood, Florida; Coral Gables, Florida; Palm Beach, Florida; Boca Raton, Florida; Medellin, Colombia and Caracas, Venezuela.