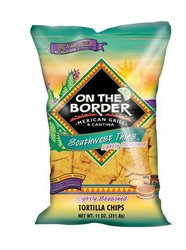 Dallas, TX (Vocus) December 10, 2008
Truco Enterprises is proud to announce the launch of the Southwest Thins™ Tortilla Chips.
The Southwest Style tortilla chips were developed by using the finest white corn which is cooked to perfection and stone ground to make the ideal 'masa'. This key ingredient results in a delicate, crisp tortilla chip that is lightly seasoned with our secret southwest seasoning resulting in a delicious snack that captures the essence of Tex-Mex cuisine in every bite.
Our Southwest seasoning is light, smooth and impactful without excessive heat and just enough to leave you craving more with every bite.
The Southwest Thins offer the same great quality as all On The Border® Chips:

0g trans-fat
No cholesterol
No preservatives
No artificial flavors or coloring
No MSG
Gluten Free
About Truco Enterprises
Truco Enterprises is a company in which ideas and business strategies are always fresh. By forging an innovative partnership with Brinker International and licensing On The Border® brand name retail products, Truco Enterprises has created a unique platform that encompasses a range of Southwest/Mexican cuisine flavor options spanning six categories: salty snacks, dips, salsa, drink mix, soups, and frozen foods. Today, Truco markets and distributes On The Border premium-branded products throughout the nation. The company is headquartered in Dallas, Texas. For more information, visit Truco at http://www.trucoenterprises.com/.
Contact:
Yessica Hinklin
800-471-7723, ext. 359
yhinklin @ truco.com
###