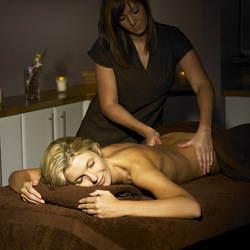 We are always looking for new ways to enhance the customer experience at Waterfall Spa - and our new website demonstrates our commitment to offering our clients the very best experience from the moment they visit our website until their day of pampering comes to an end
Leeds, UK (PRWEB) November 29, 2007
The new site includes a host of new tools and features such as a 'Package Chooser' and 'Treatment Chooser' which recommends the user a tailored choice of packages or treatments based on how they are feeling, and the ability for users to submit thier own reviews of packages and treatments.
Pamela Petty, Managing Director of Waterfall Spa, commented "We are always looking for new ways to enhance the customer experience at Waterfall Spa - and our new website demonstrates our commitment to offering our clients the very best experience from the moment they visit our website until their day of pampering comes to an end" The new website, based on carefully analysed customer feedback, comments, and suggestions has taken over 6 months to plan and develop.
Amongst other things, the newly launched spa website now features -

A Package Chooser which recommends a Spa package based on your budget and requirements
A Treatment Chooser which suggests Spa treatments based on how you are feeling
Treatment Spotlight, an in-depth treatment analysis for all treatments
Customer Reviews for all treatments and packages
A Spa Video section featuring streaming media
An Interactive Spa Plan which allows users to tour the Spa
Social Bookmarking links
An Express Booking form for quick and simple booking
The site, which has launched just in time for the busy Christmas period, has been built from the ground up with the user experience in mind - to ensure that the site both reflects the luxury of a day at Waterfall Spa and is easy to use and navigate.
Pamela Petty summarised "This new website stands out as the leader in the Spa industry - making bookings online is now incredibly quick and simple - and we are very excited to be launching this new site which truly reflects the quality and luxury of the Waterfall Spa experience"
Visit http://www.waterfallspa.co.uk to experience the new site.
Waterfall Spa is a luxury ladies-only Day Spa in Leeds (in Yorkshire) offering clients relaxing spa breaks in the city centre. Launched in 2005, the company has gone from strength to strength and is now considered one of the top Beauty Spa destinations in the UK.
###